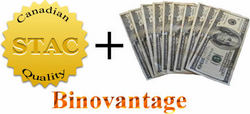 When you are buying these reconditioned loupes and led headlights, you are buying satisfaction at affordable prices
Lancaster, NY (PRWEB) September 29, 2009
Binoloupe.com made a special arrangement with ACTS Medical, Canada, manufacturers of STAC brand dental and surgical loupes and portable LED headlights. Under this new agreement Binoloupe.com will acquire all their Reconditioned to New loupes and headlights to offer then at deep discount price at their online store binoloupe.com.
"These reconditioned to new loupes are a great opportunity for students, customer on budget to purchase brand name quality loupe at down to earth price", says John Ballie, executive Binoloupe.com
Every reconditioned to new STAC loupe or led headlight offered under Binovantage program is guaranteed by ACTS Medical, Canada for its quality and include standard manufacturer's warranty.
Explaining how Binovantage program works, John Ballie, executive at Binoloupe.com said, "occasionally during their trial period, a client discovers that they need more or less magnification or perhaps another style of loupe. In case of led light client needs different hinge. We refit them with a new set, and return these loupes or led lights back to ACTS Medical. At ACTS Medical these binocular loupes and lights are reconditioned to original. We at Binoloupe.com acquire them at deep discount price and offer these good-as-new loupes and led headlights at great savings to you!"
Every STAC Loupe when it undergoes reconditioning process
1. It is replaced with a new nose-pad, side shields and head-strap.
2. It is laser aligned again.
3. it is cleaned and disinfected
4. It is tested and inspected against the STAC quality standards.
"When you are buying these reconditioned loupes and led headlights, you are buying satisfaction at affordable prices", says John Ballie, executive Binoloupe.com.
It is a great program for dental students, dental assistants, surgical assistants, hygienists or any one looking for quality magnifying loupe at budget prices.
These reconditioned loupes come in very limited quantity So one has to ACT fast before they are purchased by some one else.
Binoloupe.com is an online store showcasing STAC binocular loupes and portable headlights.
ACTS Medical is the manufacturing unit of ACTS International Inc., Its product range include binocular loupes, portable LED headlights, dental diamond burs, carbide burs. STAC is flagship brand name for ACTS Medical Canada. Every STAC product follows strict quality standards to provide you 100% satisfaction. Visit stacvision.com for more information.
###