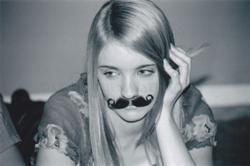 New York, NY (PRWEB) May 15, 2012
Stache Envy™, the newest series by Manhattan-based photographer, Stephanie Navatto, literally puts a new face on prostate cancer awareness month known as 'Movember'.
Navatto was deeply moved by the men around her growing their own mustaches to support prostate cancer awareness as part of the annual "Movember" charity event. She noted parallels between the prostate cancer awareness campaign for men and pink ribbon campaigns for breast cancer. But where men can easily sport a pink ribbon to show solidarity, Navatto began to envision how women and children could likewise show their solidarity with this men's health issue.
In Stache Envy, Navatto's subjects, women and children, are shot in black and white film on the streets of New York, a mustache made of human hair affixed to their upper lips.
"I just thought how much bigger Movember could be if women and children could participate with men by donning mustaches of their own. I wanted to include women and children because prostate cancer affects our lives just as much as it does men's. We want a cure for our fathers, brothers and husbands—that's what these photos say to the world."
Navatto is currently reaching out to galleries and the media to garner attention not only for her series of photographs, but for the "Movember" movement which inspired it, in hopes of likewise inspiring men, women, and children to take note and take action in a cause that is near to her heart.
"I've created a magical reality in these photos," said Navatto. "Of course women and children typically can't grow mustaches to support this cause, but they do within my images. While we were shooting, I was fascinated by the reactions of passers-by taken aback by the contrast of a mustache on a woman or child. It really makes a statement."
As a photographer Navatto seeks to capture moments that leave a powerful and timeless impression. Stache Envy has enabled her to do just that by combining her deep love of photography with her vision of women and children joining the Movember movement.
"This project is serious" Navatto explained, "but it's also joyful and whimsical; it's provocative, fearless and beautiful. And it's so much more than a jump on the mustache bandwagon. Stache Envy is about visible solidarity and hope."
For additional information, to connect with Navatto to further the "Movember" message, or to arrange a gallery showing, email: info(at)stephanienavatto(dot)com or call 917.848.8559.
Photography
To see more photos click here: http://stephanienavatto.com/stache
About the Artist
Stephanie Navatto is a professional photographer based in Manhattan and working, on location, in and around New York City. She specializes in working closely with her subjects to capture their unique spirit and beauty both in portraiture and candid moments. Stephanie also photographs commercially and for personal enjoyment, with subjects ranging from nature to vintage cars. With an artistic eye, Stephanie creates still life images, which are true to nature and yet leave room for interpretation by the viewer. Her work can be seen on http://www.StephanieNavatto.com
###