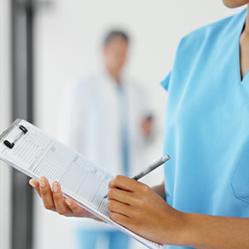 Once people earn a professional license, they might think their interaction with their licensing board has ended, but it may have actually just begun.
San Diego, CA (PRWEB) November 03, 2012
The 91 doctors, nurses and other licensed medical professionals who were charged in early October by a federal healthcare strike force with allegedly fraudulently billing the government nearly $430 million—as reported in the LA Times—seemingly chose to take a risk and now they face serious consequences. Attorney Stacie Patterson, who practices professional license defense, realizes that understanding and managing risk is something licensed professionals must do on a daily basis, and she's provided some suggestions to help them do it.
"Once people earn a professional license, they might think their interaction with their licensing board has ended, but it may have actually just begun," Patterson said. "Boards that license nurses, lawyers, and other professionals have a great deal of power with respect to whether licensees maintain their status, and make no mistake, their goal is to protect the public—not those they've licensed."
Here are a few suggestions to help licensed professionals understand their risks and manage them to ensure they remain in good standing with their licensing boards:

Know that a broad range of conducts, including anything criminal, can result in disciplinary action, even if it might seem unrelated to carrying out your professional duties. While behavior with patients/clients certainly falls under the microscope, so, too, can activities that might lead your licensing board to think you're dishonest or unethical. This can include acts of violence, substance abuse issues and even getting a DUI while on vacation; while those occurrences may not affect your work, they reflect on professionalism, or lack thereof.
Stay ahead of any potential disciplinary action by addressing issues before your licensing board learns about them. If you've done something that results in attention from law enforcement, be sure to report it when you renew your license. This is especially important if your issue includes intoxication or use of a controlled substance, since you may almost be in a position of having to prove you're not a substance abuser.
Follow your gut instincts—that internal alarm system we all have—before engaging in any behavior that could be considered "fishy." I've found that when licensees get in trouble, most of them had a feeling that their actions weren't going to work out well for them.
If you do come into the crosshairs of your licensing board, be very cautious about providing a statement without having an attorney present. The people you're dealing with may act like they're your friends, but you need to remember that their "customer" is the public, not you.
Licensing boards have a number of disciplinary action options when they believe licensees' behavior has crossed the line. Reprimands—public or private—or citations may be issued, and offenders may be placed on probation, which means they must abide by extremely onerous restrictions to continue to work. The most serious form of discipline—outside the court system—would be license revocation.
"The moral of the story is quite simple," Patterson said. "Understand the consequences of unprofessional behavior and take steps to manage your risk so you never find yourself in the position of defending your actions in front of your licensing board. In the best-case scenario, your communication will be limited to quietly renewing your license."
About Law Office of Stacie L. Patterson
Stacie Patterson is a San Diego professional license defense attorney. Whether you're facing a professional complaint or a criminal conviction, Ms. Patterson provides honest, straightforward representation. She can help you in your attorney license defense, nursing license defense, and more.