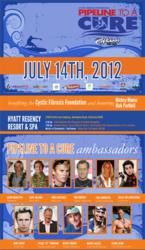 Through Pipeline To A Cure we want to continue to reach out to others who want to help these children and young adults with Cystic Fibrosis live to fulfill their dreams.- says Paul Motenko
Huntington Beach, CA (PRWEB) July 14, 2012
Paul Motenko and Jerry Hennessy, Co-Founders of STACKED Restaurants are proud to support the Cystic Fibrosis Foundation at the Pipeline to A Cure Gala. The gala will be held on Saturday, July 14th, 2012 at the Hyatt Regency Huntington Beach Resort and Spa.
Legendary watermen Laird Hamilton and Dave Kalama will again serve as honorary co-chairmen of the event, having served in this capacity since the inaugural event in 2008. To date, Pipeline to a Cure has raised more than $1,500,000 for the Cystic Fibrosis Foundation to support its efforts to find a cure.
Cystic fibrosis is an inherited chronic disease that affects the lungs and digestive system of about 30,000 children and adults in the United States (70,000 worldwide). A defective gene and its protein product cause the body to produce unusually thick, sticky mucus that clogs the lungs and leads to life-threatening lung infections, and obstructs the pancreas and stops natural enzymes from helping the body break down and absorb food.
The Pipeline to a Cure event was created to herald the discovery by Australian researchers who found that cystic fibrosis children that surfed had significantly healthier lungs. Doctors determined that inhaling saltwater mist has a powerful effect on rehydrating the lining of the lungs, which allows cystic fibrosis patients to more easily eliminate bacteria-contaminated mucus. This discovery led researchers to develop a hypertonic saline solution, which cystic fibrosis patients around the world now inhale every day. In essence, cystic fibrosis patients now mimic a "surf session" on a daily basis.
"Recent clinical trials for a drug called VX-770 have shown positive results for improving the health of those with Cystic Fibrosis. In fact, VX-770 is now awaiting FDA approval after which it will be able to help thousands of CF patients. The funds raised at Pipeline go directly to this life-saving research, and without the support of sponsors and people like Laird Hamilton and Dave Kalama, and so many others, we would not be able to make this progress. We want to reach out to other like-minded individuals and companies who will help these children and young adults live to fulfill their dreams."
With no public funding, funds raised from the private sector provide a tremendous and critical lifeline to the more than 70,000 children around the world with cystic fibrosis. The last three events attracted a groundswell of support from the business and surf communities. Current and past sponsors are Wahoo's Fish Taco, LAcarGUY, A-Med Health Care, Hyatt Regency Huntington Beach, American Airlines, Coast Benefit Consultants, BJ's Restaurants, Nick Alexander Imports, Pepsi, Pac Sun, Heineken, Crown Imports, Quiksilver, Volcom, HB Surf School, Newport Surf Camp, and Alar Staffing Corporation.
Surfers lending their support for the CF cause included Bethany Hamilton, Lisa Andersen, Peter "PT" Townend, Tom Curren, Rob Machado, Jeff Clark, Mickey Munoz, Jericho Poppler, Gerry Lopez, Gavin Beschen, Kala Alexander, Michael Ho, Julian Wilson, Sally Fitzgibbons, Travis Mellem and Jamie Mitchell. Celebrities who attended include Gabrielle Reece, Billy Joe Armstrong and Mike Dirnt of Green Day, Eva LaRue (CSI: Miami), Tia Carrere, Kiptyn Locke (Bachelor Pad), Tim Salmon (Los Angeles Angel s of Anaheim), Olympic swimmer Jason Lezak, Rowdy Gaines, Tom Shadyac (director) with performances by Social Distortion, Emily's Army and the Kalama Brothers.
Pipeline committee members include Paul Motenko (STACKED:Food Well Built), Judy Burlingham (Coast Benefit Consultants), Todd Elder (Black Gold Golf Club), Stan Bryson (Christian Surfers), Kim Daskas (Vestar Development), Patti Cinkle (ALAR Staffing), Andrew Kopjak (Merrill Lynch), Raven Pugh (Cystic Fibrosis parent), John Gordon (American Security Bank) and Barbara Caruso (Caruso Communications).
The Pipeline gala begins at 6pm for cocktails and silent auction, dinner and live auction program begin at 7:30 pm. Tickets for the event are $350. Table and other sponsorships are available. For more information about Pipeline to a Cure or the Cystic Fibrosis Foundation, please call (714) 938-1393 or visit http://www.pipelinetoacure.com or http://www.cff.org.
About Cystic Fibrosis Foundation:
The mission of the Cystic Fibrosis Foundation, a nonprofit donor-supported organization, is to assure the development of the means to cure and control cystic fibrosis and to improve the quality of life for those with the disease. The Foundation is the leading organization in the United States devoted to cystic fibrosis. It funds and accredits more than 115 CF care centers, 95 adult care programs and 50 affiliate programs, and has 80 chapters and branch offices nationwide.
The Cystic Fibrosis Foundation is one of the most efficient organizations of its kind. It has received a four-star rating for sound fiscal management from Charity Navigator, the largest independent charity evaluator in the United States and is an accredited charity of the Better Business Bureau's Wise Giving Alliance. The Foundation's business model has been recognized by the National Institutes of Health and by publications such as Forbes, The New York Times, The Wall Street Journal and BusinessWeek.
About STACKED:Food Well Built
The STACKED experience is all about getting exactly what you want. They offer America's favorite foods – Burgers, Pizza, Salads and Mac 'n' Cheese. Choose between dozens of ingredients to create the perfect meal for your taste. Or you can select one of our recommended signature items.
STACKED is a full-service restaurant with an innovative ordering approach that enables you to control when you order and pay, and customize your meal in a comfortable, uninhibited way.
Great food, exactly how you want it, and when you want it. In other words, Food Well Built!
Michael Shumard
Cystic Fibrosis Foundation
714-938-1393
MShumard (at) CFF (dot) org
Barbara Caruso
Caruso Communications
714-841-6777
CarusoCom (at) aol (dot) com
The H.O.M.E Foundation is Also Proud to Support the Cystic Fibrosis Foundation
About The H.O.M.E. Foundation:
The Helping Others Means Everything, or The H.O.M.E. Foundation, is a not-for-profit organization dedicated to helping our Family of Charities. Frank Verdugo, President of The HOME Foundation, wants to help as many worthy charities as possible as they struggle during these tough economic times. Frank Verdugo helps raise funds through luxury dream home raffles, prizes, and high profile celebrity events in Hollywood... "Our mission is to help charities reach their fundraising goals and to bring awareness to their praiseworthy causes."
# # #