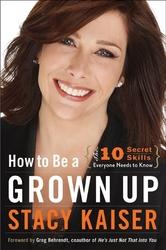 Stacy Kaiser lets us in on the secrets of human behavior: change is always possible! But more importantly, Stacy gives you the power to create the life you want. - Peter Walsh, author of Does This Clutter Make My Butt Look Fat?
San Francisco, CA (PRWEB) May 14, 2010
As the psychotherapist for both Celebrity Fit Club and Lifetime's Diet Tribe, as well as in private practice, Stacy Kaiser has provided therapy for thousands of clients facing all kinds of challenges. Now, in her first book, Kaiser identifies the ten critical areas that will help readers develop the life skills to become a successful, happy, well rounded adult. "If something in your life is missing, or not working the way you want it to—be it your career, your weight, or your love life—HOW TO BE A GROWN UP will empower you with the necessary tools to take control for a better way of life," Kaiser explains.
HOW TO BE A GROWN UP (HarperOne; On-sale June 2010; Hardcover; ISBN 978-006194118-4) begins with "The Quiz," an empowering first step which allows the reader to become an expert on her own life, and explore what she really wants and needs in every area of life. Then, in chapters packed full of tips, tools, and exercises, Kaiser takes the reader on a journey of self-discovery in which he or she will: (1) evaluate individual strengths and weaknesses, (2) identify self-sabotaging traits and learn how to change them once and for all, and (3) dig deep to discover the cause of unwanted behaviors.
According to Kaiser, fully-loaded grown ups are fully empowered and in charge of their own lives. They are able to initiate change instead of just reacting to events, bounce back from setbacks and disappointments, and enjoy more satisfying relationships with everyone—including themselves. Most importantly, fully-loaded grown ups enjoy the true freedom that comes with confidence in their ability to live their own best life.
With her trademark mix of warmth and toughness, Stacy Kaiser motivates readers to rally their strengths, let go of childish, outgrown attachments, and arrive at a peaceful balance between freedom and responsibility. For those who feel like they have lost control of their lives, or those who just need a tune-up in one or two areas, HOW TO BE A GROWN UP is a wise and witty guide to life as an adult.
ABOUT THE AUTHOR:
STACY KAISER is a licensed psychotherapist, relationship expert, and media personality. With over 100 television appearances in the last year on major networks including CNN, NBC, CBS, MSNBC, and FOX, Stacy has a reputation for bringing a unique mix of thoughtful and provocative insight to a wide range of topics. Stacy tackles the demands of a thriving private practice while meeting the daily challenges as a mother of school-age children. She is a much sought after public speaker on subjects ranging from office and personal relationship issues to anger management and family politics.
In addition to her numerous television appearances, her expertise and perspective have been solicited by a diverse group of clients including major corporations, public institutions, government agencies, and philanthropic organizations. Stacy was a featured psychotherapist on VH1's Celebrity Fit Club and Lifetime's DietTribe, and is currently the chief program officer for ToughLOVE LLC. She lives in Los Angeles with her two children. Learn more and watch video clips at http://www.stacykaiser.com
** Watch Stacy on NBC's The Today Show: May 20, 2010 **
HOW TO BE A GROWN UP
By Stacy Kaiser
HarperOne, an Imprint of HarperCollins Publishers
On-sale: June 2010 Hardcover, $25.99 ISBN: 9780061941184
# # #