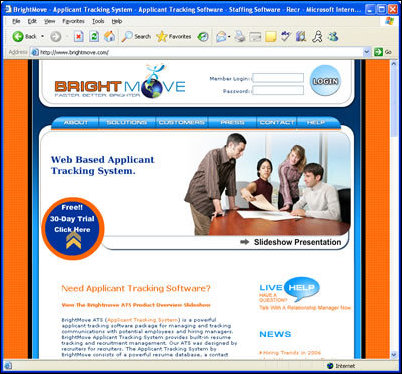 One of the major goals of this release was to increase the user friendliness from an interface point of view. We made major revisions to the search engine module specifically to make the access to the applicant resume and contact history data faster and easier to digest.
Jacksonville, FL (PRWEB) July 25, 2006
The Development staff at BrightMove Inc has announced the release of the latest version of their "SaaS" (software as a service) applicant tracking software: BrightMove version 2.2. The company president, James Hurff, states, "One of the major goals of this release was to increase the user friendliness from an interface point of view. We made major revisions to the search engine module specifically to make the access to the applicant resume and contact history data faster and easier to digest."
Not only does version 2.2 make this Applicant Tracking System more intuitive, it will also help companies who work with the federal Government comply to new regulations surrounding internet applicant and minimum qualifications. James Hurff says, "For companies who act as vendors to federal government agencies, the 'knockout questions' feature provides a robust and consistent way to manage online applications for employment and 'basic qualifications'. We added the functionality specifically in response to customer requests, but realized during the due diligence of the capability that there were significant regulatory justifications behind the inclusion of this new feature."
Below is a list of enhanced functionalities and new features that have been added to BrightMove version 2.2. All development of this web-based Applicant Tracking Software is determined by the company's clients' suggestions and feedback. The products developed by the BrightMove team have been able to help clients that were frustrated because they could not find a product that worked with their existing workflows. by adding features to their system one by one at their client's request. The list below reflects enhancements suggested by clients.
Version 2.2 Features and enhancements include:
The ability to send rich text HTML email messages directly from the system
Basic Qualifications Management. The SaaS staffing software now gives clients the ability to ask general questions of all applicants who want to apply for employment. Additionally, companies can standardize applications and provide a way to separate "corporate-wide" knockout questions as well as individual "job-specific" knockout questions.
A completely revised search interface which allows users to sort candidate search results by Status, City, State, Title, and Available Date (of candidate). This new interface looks similar to many of the popular search engines in terms of how the results are displayed.
Inclusion of new document types in the search index. Clients now have the ability to search not only text resumes for keywords and/or skills sets, but they can search Notes, Activities, and File Attachments
Search results now display BrightView. BrightView is the exciting new "Smart Feature" of BrightMove Applicant Tracking Software that allows our clients to view the first 1,000 characters of a candidate's resume simply by scrolling over the icon. Clients never have to leave the results screen!
Enhancements to the BrightMove Email Parser. The Email Parser is the "Smart Feature" within the BrightMove suite of tools that eliminates the manual data entry of resumes. With the Email Parser, a user can simply email a candidate's resume and application and the documents will be added directly into the BrightMove system.
Ability to track all system emails. Upon special request form clients, the Development staff has improved its staffing software by adding the ability for the user to send resumes to the BrightMove Email Parser using more than one email address! Now all of the emails from all of clients' different email addresses will be tracked and added to their individual planner.
New email alert feature that that sends BrightMove users that are designated as recruiters an email upon a candidate being selected by a client contact.
Many new company customization capabilities. Several user defined fields were added to BrightMove applicant tracking system so that clients' business processes mold the product and make it work for them. Clients can now define custom fields in: Applicant, Requirement, Client Contact, Client, and Client Location.
Many new terminology customizations. BrightMove clients now have the ability to Customize: Activity Type, Applicant Status, Difficulty Level (related to Exams/Assessments), Education Type, Job Group, Phone Type, Race and Requirement Status.
Performance enhancements to the candidate submission workflow. Now when users perform a mass submittal of candidates to a Client Contact, they will see on their applicant status that the candidate has been submitted to that contact.
New enhancements to the Reports module that allows for the export all reports easily to Microsoft Excel
Several new additions to the Reports module. The Development staff has added several new Reports that our clients can request access. They include: Requirement report (shows open requirements and associated information), Submittal report (shows all submittals and associated information), Activity report (both personal and for all employees depending upon your role in the company).
The new Activity report allows clients to see activities for Today, Yesterday, and the entire Month
BrightMove save can now save reports they have run for future execution.
BrightMove ATS is a fully web-based software product developed "by recruiters for recruiters." The staff at BrightMove typically works with Staffing and HR Professionals who are frustrated by the amount of time it takes to find resumes of qualified candidate, concerned about a lack of organization surrounding the recruiting process, or worried about how much money they are spending on posting and advertising jobs without knowing that they are recouping their investment. The experts at BrightMove use their customer's feedback and suggestions as direct input to the development road map.
BrightMove is offering ATS as a low cost alternative to the often expensive CRM packages and contact management solutions. ATS subscriptions start at just $95 per month with discounts offered based on length of contract and volume.
For more information on ATS, please visit BrightMove's web site at http://www.brightmove.com, send email or call 1-877-482-8840.
Faster. Better. Brighter.
BrightMove.
###