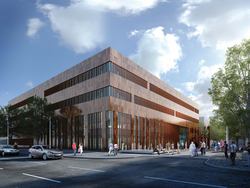 The new centre will also provide the University and its partners with the facilities and capacity to undertake more consultancy and research which has relevance to the wider world.
(PRWeb UK) September 15, 2010
Staffordshire University has given the green light to a £30 million project which aims to inject and inspire confidence in the North Staffordshire economy.
Work to construct a state-of-the-art Science and Technology Centre, will launch the University Quarter (UniQ) into an exciting new stage in its development.
Following a firm commitment of investment by the University's Governors to its Stoke-on-Trent campus, Miller Construction have been appointed to start work on the Leek Road site immediately.
Staffordshire University Deputy Vice-Chancellor Paul Richards said: "The University has taken the decision that this can't wait. The Science and Technology Centre is another giant step in the regeneration of North Staffordshire and we are confident it will make a significant impact on creating a science-literate community and a qualified workforce to help grow our science-based industries.
"The new centre will also provide the University and its partners with the facilities and capacity to undertake more consultancy and research which has relevance to the wider world."
Chairman of Staffordshire University Board of Governors Steve Burgin added: "We are proud to be able to make this contribution. We have confidence in our future and recognise that we have a responsibility to provide the facilities to take us forward. We see this development as a catalyst of further inward investment which will attract new businesses to the Stoke-on-Trent area."
"It is also a key part of the programme to provide an academic hub in the City which aims to raise education and skills levels in the wider community."
The Centre, which is supported through an £8 million grant from the Higher Education Funding Council for England (HEFCE), will accommodate all of the University's science teaching and research as well as a range of other specialist fields, from renewable energy to medical technologies and biomechanics.
It features a host of specialist science and technology laboratories, a cognitive and developmental psychology suite, interview rooms, two lecture theatres which can transform into a single 250 seat facility, a dedicated IT suite, learning resource centre, flexible learning spaces, café, and public exhibition space.
Opening in the autumn of 2012, science students from the City of Stoke-on-Trent Sixth Form College and neighbouring Stoke-on-Trent College will also make use of the new Science and Technology Centre, which aims to encourage progression to higher levels of study.
MP for Stoke-on-Trent Central, Tristram Hunt, welcomed the announcement which coincides with the British Science Festival. He said: "I am delighted that the University has shown the leadership and ambition to continue with this profoundly important project. It is another step in the journey for Stoke-on-Trent as it moves towards a high-skill economy, in which universities and colleges become the wealth creators of tomorrow.
"It shows Stoke-on-Trent is open for new businesses, ideas and educators and makes a vital contribution to the ongoing regeneration of Stoke town."
Councillor Mervin Smith, Stoke-on-Trent City Council cabinet member for city development (regeneration), added: "This is excellent news for Stoke-on-Trent as the city continues to deliver sustainable regeneration despite the current difficult economic climate."
Long term objectives to be achieved through the development of the Science and Technology Centre include:

Expanding the science and technology educational offer through the development of 20 new innovative, flexible and industry relevant courses focussing on the challenges facing today's society.
Working with employers to develop new products/services and improve efficiency/processes within the science sector.
Assisting entrepreneurs in the creation of more than 70 new business enterprises in the science and technology sector.
Ensuring greater levels of local community participation and public engagement through an innovative and on-going programme of activities and events.
The UniQ is the largest collaborative, education led regeneration project of its kind in the UK and has already seen the opening of a new Lifestyle building at Stoke-on-Trent College and the relocation of the City of Stoke-on-Trent Sixth Form College to a new building adjoining Staffordshire University's campus on Leek Road.
ENDS
Notes to editors:
For more information, to arrange interviews or obtain images, contact Staffordshire University Press Manager Maria Scrivens on 01785 353401. For further information about UniQ visit http://www.uniq-stoke.org.
###