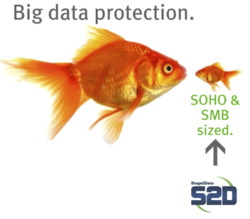 Big companies get world-class cloud based data backup and recovery and with Stage2Data UDP SOHO and SMB Editions, the smaller ones can too.
Oakville, Ontario (PRWEB) February 09, 2012
Stage2Data, a leading provider of cloud based backup and recovery solutions has announced the launch of their Ultimate Data Protection (UDP) SOHO and SMB Editions. The new UDP line-up is a signal that Stage2Data, powered by Attix5 is aiming to be a dominate cloud based backup up and recovery player not only in their strong hold of Enterprise, but in every segment of the market including the growing North American SOHO and SMB categories.
Ultimate Data Protection: SMB Edition is aimed at companies with 100 GB or more of data while the SOHO (Small Office, Home Office) Edition is tailored for 100 GB or less.
With decades of experience and success in the Enterprise market, the aggressive move into the SOHO and SMB categories signals a new area of growth for the company. According to Jeff Collier, President of Stage2Data "We have always been strong in the SMB market but now with Attix5 our goal is to take that success to the next level. Our Oakville, Ontario and Denver, Colorado teams talked to potential SOHO and SMB clients, listened to what they wanted and then created our new UDP Editions. I'm excited about our new product offerings, they answer a need in the market at a price point that's beyond aggressive."
Jacques Swanepoel, Stage2Data's CTO, championed the UDP SMB and SOHO Editions because these markets have proven to be highly vulnerable to data loss. Swanepoel suggests that "40% of SMBs fail to back their data up. That means data at risk and businesses too. The statistics are clear, over 50% of businesses fail within 2 years of a major data loss. Our new economy is being powered by SMB and SOHO's and our UDP Editions give their data the protection it needs and deserves."
According to Small Business Computing, "When SMBs do perform data backups they often store data on PC desktops or laptops." And that, according to Swanepoel is a risk no business needs to take. "The world's biggest companies would never rely on storing data on a PC, a laptop or an external hard drive, why should a SMB or SOHO?"
Company Stage2Data
Stage2Data is a privately held company founded by Jeff Collier and Jacques Swanepoel in 2008. The company is dedicated to working with Enterprise and SMB's to safeguard their data against disaster or loss using cloud based, disk to disk technology. Stage2Data is the Master Distributor for Attix5 in North America and is a recognized leader in backup and recovery. Stage2Data is headquartered in Oakville, Ontario with offices in the USA. For additional information about the company, please visit http://www.stage2data.com.
About Attix5
Stage2Data is the Master Distributor of Attix5 in North America. Attix5 is an international provider of secure data management, storage and restoration, specializing in virtualization and cloud based solutions. Its world-class data protection software uses FIPS-compliant Advanced Encryption Standard (AES) encryption for security and provides absolute peace of mind to listed Enterprises and SMEs across the world. Founded in 1999, Attix5 is headquartered in the UK with offices in South Africa.
# # #