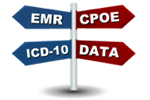 (PRWEB) August 24, 2012
Stage7 Systems, a healthcare information technology consulting firm, has designed a multi-phase structured methodology aimed at helping community & rural hospitals (<250 beds) and large ambulatory medical practices take strides in completing their EHR-related programs.
This phased approach to delivering on the promise of true healthcare IT transformation includes:
1. Healthcare IT Strategy Planning & Management
2. Infrastructure Modernization & Hosting
3. EMR / EHR System Implementation & Data Services
4. EMR / EHR System Optimization & Education

Each phase shown builds upon those prior yet can be completed independent of the others. In that way, the methodology is designed to bring immediate value to care providers by jumping in at virtually any stage of the clinical systems lifecycle.
According to Shawn Torkelson, Stage7 Systems' Managing Director, this strategy is in response to changing market conditions, "Given the evolving nature of the healthcare industry, the majority of our larger client's now have an IT transformation strategy in place and have deployed (or are deploying) their selected clinical & practice management systems. We continue to work diligently with those larger health systems while translating our experience with them into a formal consulting approach that can be used to bring the same value to their smaller counter-parts; the community & rural hospitals and ambulatory medical groups. That's where we believe the next wave of tangible value exists in the healthcare industry."
ABOUT STAGE7 SYSTEMS
------------------------------------------------------
Stage7 Systems provides consulting services to healthcare providers throughout North America. Solutions we provide include healthcare IT strategy planning, EMR / EHR project consulting & staff augmentation, infrastructure modernization including desktop virtualization & Infrastructure-as-a-Service, and EMR / EHR system optimization. Vendor applications we often work with include Epic, Cerner, Meditech, Sunquest, NextGen, eClinicalWorks, McKesson, and Allscripts with Citrix as the primary underlying infrastructure platform. Learn more at http://www.stage7systems.com