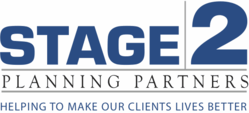 We are delighted to have Stage 2 Planning join our network of advisors.
South Burlington, VT (PRWEB) February 08, 2012
Stage 2 Planning has joined Fusion Advisor Network, a unique membership organization of leading independent financial advisors. Fusion Advisor Network will provide Stage 2 Planning with business management and consulting services allowing them the ability to leverage some of the best practices of other advisory firms. Stage 2 Planning made the decision to move their business to Fusion Advisor Network for the use of these services in addition to the ability to network and share ideas with other like-minded advisors.
"We are looking forward to our relationship with Fusion Advisors. We believe having access to their extraordinary staff as well as other members of the alliance will help us with our goal of helping to make our clients lives better." said Josh Patrick, Principal with Stage 2 Planning Partners.
The transition took place on January 1, 2012.
"We are delighted to have Stage 2 Planning join our network of advisors. We are extremely selective with the firm that affiliate with our membership group and found the advisors of Stage 2 Planning to be as client centered and forward thinking as we are. We look forward to having them in our network," said Stuart Silverman, CEO of Fusion Advisor Network.
About Us
Stage 2 Planning Partners is a wealth management firm with offices in South Burlington, VT and Latham, NY. The firm specializes in concentrated areas such as private business wealth management, pre-retirement consulting, post retirement consulting and working with people in transition. The purpose of the firm is to help make their clients lives better. The firm publishes as bi-monthly newsletter and a daily blog on issues of interest to its clients. You can find more about Stage 2 at http://www.stage2planning.com.
About Fusion Advisor Network
Fusion Advisor Network (http://www.fusionadvisornetwork.com ) is a membership organization consisting of some of the leading independent advisory firms in the country. Fusion Advisor Network provides affiliated member firms with business management consulting, marketing, technology optimization, human resource guidance, benefits, and guidance around succession planning including mergers and acquisition. Fusion Advisor Network advocates on behalf of its member advisors and uses its collective negotiating power to help secure access to some of the leading platforms and vendors in the industry. Through its association with NFP Securities, Inc., Member FINRA/SIPC, Fusion is able to provide member firms with access to one of the nation's leading broker/dealers2.
2Ranked 10th based on total revenue (2010) financialplanning.com June 2011
###