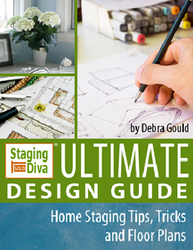 You don't need a formal background in interior design to be a successful home stager
United States (PRWEB) December 3, 2008
The slow real estate market can make decorating a home to sell quickly for a high price a challenging task. Internationally recognized home staging expert Debra Gould (the woman behind the trusted Staging Diva® brand), takes readers on a room-by-room redesign journey in the new Staging Diva® Ultimate Design Guide: Home Staging Tips, Tricks and Floor Plans being released today.
There are multiple ways to decorate a home so it speaks to the buyer on an emotional level, making it stand out from the competition and attract high offers. Incorporating the design elements that do this effectively is the job of a home stager. Gould has been documenting what she has found to work best in every conceivable home staging scenario while running her own home staging business, Six Elements Inc.
"You don't need a formal background in interior design to be a successful home stager," says Gould, creator of the Staging Diva® Home Staging Business Training Program. She adds, "However, many people who have the decorating talent to make it in the real estate staging business are hesitant to move forward without some sort of design direction. In fact, even if you're an interior designer, decorating to sell and decorating to live are two completely different objectives and need to be handled differently. Home stagers often work with what a client already has in their home. Our job is not to convince sellers to buy all new furniture the way an interior designer might be tempted to do with their clients. In the Staging Diva® Ultimate Design Guide: Home Staging Tips, Tricks and Floor Plans I address how to use what a home seller already has and also what to do to stage a vacant home."
Gould has been developing quality home staging training products under the highly respected Staging Diva® brand since 2004. Among these products are a complete home study home staging business training program, ebooks about how to develop a winning home staging portfolio, using color in home staging, and even one that provides stagers with Gould's own sales script that has been proven to turn prospects into paying staging clients. The Staging Diva® Ultimate Design Guide is expected to be the most popular product in the Staging Diva® Store because of its broad appeal and specialized "how-to" knowledge regarding decorating to sell as opposed to decorating to live.
"The Staging Diva® Ultimate Design Guide provides room-by-room 'how-to' information and even covers increasing curb appeal," says Gould. "After reading this ebook, aspiring and established home stagers alike will be able to confidently decorate any home to sell quickly in today's slow real estate market, even houses with kitchens and bathrooms that look like disasters before staging."
An ideal gift for home stagers with the holidays approaching, this essential home staging resource is brought to life through before and after photos and sample floor plans from Debra Gould's own home staging projects. It contains not only detailed design information for each space in a home, but overall home staging advice, common staging pitfalls and how to avoid them, advice surrounding the role of a stager in the real estate selling process and much more.
To read the Table of Contents and to order your copy, visit http://www.stagingdiva.com/store
About The Staging Diva:
The creator of the Staging Diva® Home Staging Business Training Program, Debra Gould has staged millions of dollars worth of real estate, including seven of her own homes. She is the president of home staging firm SixElements.com and has trained over 1000 home stagers to start and grow their own businesses.
Debra has gained international recognition through features in major media in the US and Canada including: This Old House, HGTV, CNN Money, CBC National News, CBS Radio, Global TV, City TV, The Wall Street Journal, Women's Day, Reader's Digest and more.
Contact:
Debra Gould, The Staging Diva
Six Elements Inc.
416-691-6615
debragould@stagingdiva.com
http://www.stagingdiva.com
###