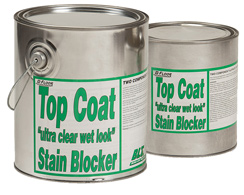 Grand Junction, Colo. (PRWEB) December 24, 2012
Garage Flooring LLC announced today the release of the flexible stain blocker products from Better Life Technology. The product is designed for the G-Floor garage floor mats and G-Floor imaged garage floor mats.
The new Stain Blocker product compatible with all G-Floor products. The stain blocker product is designed to keep tire marks, and other items from causing permanent stains to the flooring. Unlike other products on the market, the G-Floor stain blocker allows the consumer to coat their garage floor without adhering it. They can roll up their garage floor mats without causing the topcoat to crack or lose adhesion.
According to the manufacturer, the product is not required for any of their products. It is available as an option on the solid color garage floor mats -- for those consumers that are concerned about tire marks and other stains. It is highly recommended for all clear and digitally imaged products as they are extremely likely to stain without the topcoat.
"The G-Floor product from Better Life Technology is an outstanding product. The release of the Stain Blocker allows consumers, car dealerships and other commercial locations to have a worry free floor that installs with the ease of BLT G-Floor," stated Justin Krauss, President and Co-Founder of Garage Flooring, LLC.
G-Floor has been installed in garages, commercial and industrial locations for over a decade. The recent releases of several key product lines including a licensed Corvette garage floor mat as well as the Granite Spek line of garage floor mats and several other digitally imaged flooring products necessitated a way to protect these high end flooring products. The original stain blocker was released earlier this year but required a fully adhered application. The new stain blocker can be applied over a floating floor and is affordable enough to be installed on all of the original G-Floor Products.
"We need to be clear that no floor is ever stain proof. That is simply not a fair expectation. That said G-Floor with this stain blocker installed provides a high end, durable and extremely stain resistant floor. In the past we have hesitated in selling imaged product in black and white over concerns that they would stain. This product allows consumers to have a black and white floor, the look of granite or epoxy or almost any floor they can imagine, and be confident that they can drive and work on it," continued Krauss.
Garage Flooring LLC is a Grand Junction based Distributor of the Better Life Technology Garage Floor Mats as well as garage storage, garage floor tiles, Drymate Garage Floor mats and hundreds of other products for the garage. For more information visit them online at garageflooringllc.com or call 800-956-4301.