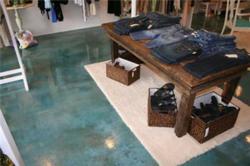 Stained concrete is one of the most popular applications for transforming concrete slabs in the US.
Calimesa, CA (PRWEB) August 11, 2011
Creating the perfect floor just got easier with stained concrete. New techniques revealed by ConcreteNetwork.com show just how to create a perfectly colored concrete surface using six popular stain concrete application techniques. Browse through all six techniques for design ideas on upcoming remodeling projects.
Today, stained concrete is one of the most popular applications for transforming concrete slabs in the US. It gives consumers in both residential and commercial settings the option to create one-of-a-kind concrete floors and hardscapes by incorporating various colors and coloring techniques.
The Concrete Network has put together a list of the six most popular [stain concrete] techniques for consumers who are interested in updating a new or existing concrete surface. The techniques cover:
1. Using one stain color to create a mottled look.
2. Creating a faux-finished look with color enhancers.
3. Creating a glossy, consistent color throughout the floor.
4. Using multiple colors to create a layered look.
5. Getting a variegated look by using both stains and dyes.
6. Creating the natural look of leather.
Each technique is covered in detail with an accompanying photo to help consumers choose the appropriate look for their upcoming project. From interior home and retail floors, to exterior patios, driveways and walkways, stained concrete continues to grow in popularity, with new innovative techniques becoming available regularly.
For additional information on concrete staining, these techniques and more, visit http://www.ConcreteStained.com.
Established in 1999, ConcreteNetwork.com educates consumers, builders, and contractors on popular decorative techniques and applications. These include stamped concrete, stained concrete, concrete countertops, polished concrete, and much more. Over 12 million people visited Concrete Network in 2010 to research, get ideas and to find a contractor.
The site excels at connecting buyers with local concrete contractors through its Find a Contractor service. The service provides visitors with a list of decorative concrete contractors throughout the U.S. and Canada, and is fully searchable by more than 20 types of decorative concrete work in over 200 regional areas throughout North America.
Article photo courtesy of Progressive Concrete Coatings in Wilmington, NC. Attached photo courtesy of Staintec in Rancho Cucamonga, CA.
###