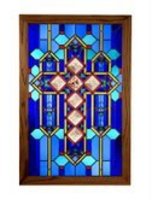 We are so ready for this!
East Bend, N.C. (PRWEB) May 29, 2009
A revolutionary alliance has been announced between one of America's elite stained glass studios and world-renowned cold glass artist Jon Kuhn for the integration of Kuhn's radiant work into stained glass windows. The innovative technique has the potential to change the global stained glass industry dramatically.
Announcement of the unique alliance was released today in advance of the Stained Glass Association of America's quarterly convention June 18-20 in Oklahoma City, during which the two companies will reveal the first of their new Kuhn Sacred Glass windows. Salem's co-owner and president, Al Priest, also announced that Kuhn Sacred Glass will be available immediately to stained glass studios worldwide through Salem Stained Glass.
"We are so ready for this!" Priest said. "We had been thinking about ways to break out of the price-driven, competitive bid mindset that limits so many stained glass studios when Jon Kuhn first approached us. Jon's reputation is international, and he gets a price for his art in keeping with that reputation, so that's nothing but good for the stained glass business. In the long run," Priest suggested, "adding Jon Kuhn's brilliant work to stained glass windows may prove to be as ground-breaking to our industry as John La Farge's invention of opalescent glass."
Kuhn Sacred Glass (as well as Kuhn Residential Stained Glass) is expected to add a factor of about ten to the cost of typical custom stained glass church windows, according to Priest and Kuhn. Kuhn Sacred Glass windows are expected to begin at around $20,000 for a 24" by 37" panel containing a half-dozen or so Kuhn Jewels and increase in price from there depending on the size and complexity of the stained glass design.
"I am stunned with this possibility," says Kuhn. "There's no doubt that the potential market is huge. But the challenge of marrying my work to stained glass is even more important to me, because it creates a fresh artistic direction. That's what my art is all about," he reflected. "I constantly drive myself toward new ways of expressing my vision in glass. It's a very spiritual vision, I might add, which I am happy that Al and Brad (Brown, Salem's co-owner) have embraced."
Whether a tabletop cube or a monumentally scaled work, Kuhn's mesmerizing lead crystal sculptures are rich with reflective light. No heat is used to create them (thus the term cold glass). Each piece is painstakingly created from the inside out through an intricate process made possible by an array of machinery that his team of artisans has adapted from industrial use to cut, shape and polish glass. An epoxy that Kuhn manufactures himself gives his work an almost uncanny transparency and allows light to escape from its matrix-like core in dazzling profusion. It's as if light itself finally has been released from bondage, liberated at last to celebrate its new-found freedom in a joyful, exuberant way.
The alliance's first commission was a freestanding 30-inch high clear crystal cross with 10-thousand facets of lead crystal, designed for a rather traditional church sanctuary. When the sun strikes Kuhn's crystal cross, the effect is as if the Spirit himself has descended to bathe the congregation in the light of Christ's saving grace.
Another collaboration Kuhn has done recently led directly to the invention of the tiny bits of crystal that Kuhn is introducing to stained glass windows: the $1.2 million Kuhn-Bösendorfer art case piano.
"I had been thinking about designing an art case piano for several years," he says. "Bösendorfer is 'old school' in the same way that I am. It doesn't matter how long it takes to make their pianos, they just have to be perfect. And that's the same kind of long-term, qualitative approach I've discovered at Salem Stained Glass. I fully appreciate the fact that stained glass of the quality I've seen at Salem can last for centuries. That's what I'm after," he enthused. "I want my work to last forever!"
"The sky's the limit on projects that marry Salem's stained glass art with Kuhn's amazing cold glass," says Brown. "It could be as simple as individual stained glass window panes arranged in the shape of a religious symbol or a complex stand-alone Kuhn work. We can shadowbox them in walls, inlay them into church pews -- or even Bösendorfer pianos. There really is no end to the possibilities."
Kuhn agrees.
"We fully expect our alliance to take wing," he says, "all over the world." And, in the process, the stained glass world will have been changed in ways that heretofore would have seemed unimaginable.
About Salem Stained Glass:
Salem Stained Glass has been creating lovely light for special spaces since its founding in 1985. Today, this company of artists and craftspeople is one of America's elite stained glass studios. Salem's product is as old as antiquity and as up to date as tomorrow, just one reason why their original designs, installation work and restoration services are in constant demand.
Please direct Kuhn Sacred Glass inquiries to Al Priest at Salem Stained Glass. A DVD about Kuhn Sacred Glass also is available.
Al Priest, President
Salem Stained Glass
1-888-724-2559
http://www.salemstainedglass.com
For sales, also contact Al Sanders (Sanders Church Furnishings) Macon GA (877) 922-8579; Andy Porter (Auburn Church Supply) Christiansburg, VA (800) 333-5948; Carr and Company, Jackson, MS (601) 605-2511; Lavern Mohl (Church Furnishings Unlimited) Winston-Salem, NC (800) 910-8165; Jamie Jones (Church Outlet) High Point, NC (800) 736-3113; Jensine Bard (Bard & Company) Palm Desert, CA (760) 845-5351.
###