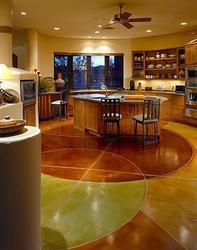 Calimesa, CA (Vocus) October 9, 2009
Though not new to the industry, new innovations and uses for stained concrete continue to develop. For this reason ConcreteNetwork.com has updated their section on concrete staining information. Ideal for consumers unfamiliar with stained concrete and those simply needing more information, articles cover the basics—information on using concrete stains to transform new or existing concrete.
To start, the site offers information on getting started with stains. Explore the uniqueness of concrete stains and all they have to offer. Learn about the types of stains available, how they work and what type of stain should be used on different surface types. And for those still not convinced that stained concrete is the best fit, the site offers a handy chart comparing stained concrete to other popular flooring materials.
Combining the best of both worlds, stained concrete is both beautiful and functional. Available for both interior concrete floors and exterior hardscapes, when used properly, stains create a colorful richness that can't be achieved by any other coloring medium while leaving behind permanent, flake-proof color.
For a photo gallery featuring hundreds of stained concrete photos, visit ConcreteNetwork.com.
Established in 1999, The Concrete Network's purpose is to educate consumers, builders, and contractors on popular decorative techniques and applications. These include stamped concrete, stained concrete floors, concrete countertops, polished concrete, and much more. Over 10 million people visit ConcreteNetwork.com per year to research, get ideas and to find a contractor.
The site excels at connecting buyers with local contractors in their area through its Find a Concrete Contractor service. The service provides visitors with a list of decorative concrete contractors throughout the U.S. and Canada, and is fully searchable by more than 20 types of decorative concrete work in over 200 regional areas throughout North America.
Article photo courtesy of Progressive Concrete Works Inc in Phoenix, AZ. Attached photo courtesy of Holland Decorative Concrete in San Antonio, TX.
# # #