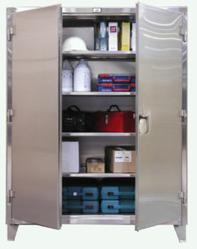 Once a customer buys a Stronghold Stainless Steel Cabinet from us , we have him for life
Boston,MA (PRWEB) January 23, 2012
Stronghold makes a fine line of 12 gauge stainless steel cabinets that have been very popular at A Plus Warehouse. In order to maintain the momentum in this line, A Plus Warehouse is announcing a special freight program for Stronghold stainless steel cabinets.
Customers are always looking for value, and A Plus Warehouse takes pride in bringing quality products to the market at a competitive price. In the case of Stronghold heavy duty stainless steel cabinet , A Plus Warehouse is making an offer that Dagny Taggart from Atlas Shrugged would appreciate.
Stronghold does not manufacture storage cabinets from Rearden metal yet, but 12 gauge stainless has an amazing 1900 pound per shelf capacity, and works great in any USDA environment and high tech as well! These cabinets are very heavy and bulky as well, so typically have a hefty shipping bill. The one hundred dollar shipping per cabinet offer makes the purchase of stainless steel cabinets a much easier decision. According to Jim O'Sullivan, Storage Cabinets product manager, "Once a customer buys a Stronghold Stainless Steel cabinet from us , we'll have him got life- due to the amazing quality and price." Mr. O'Sullivan is correct, the Stronghold deluxe 12 gauge stainless steel cabinet is one of the best stainless steel cabinets made in USA!
Although the promotion covers the Stronghold stainless line specifically, do not hesitate to contact A Plus Warehouse about other offerings. The economy stainless steel cabinet line will also be quoted aggressively for at least the duration of the heavy duty stainless steel cabinets promotion. Mr. O'Sullivan wants to see a volume of stainless sales , and the whole staff wants to make Mr. O'Sullivan happy.
A Plus Warehouse is a master dealer for all types of storage cabinets as well , not only stainless. A Plus Warehouse carries Pucel, Penco, Parent Metal, Edsal, Hallowell, and Lyon Work Space storage cabinets as well as other great lines. As a master distributor , A Plus Warehouse is able to negotiate great prices from factories and pass on the saving to the public. Come to A Plus Warehouse for any storage cabinet or metal cabinet requirement.
A Plus Warehouse isn't just about cabinets. The company also provides high quality shelving, work benches, loading dock equipment, industrial matting, dollies and lockers as well. One may consider A Plus Warehouse to be a one stop shop for many industrial items for use in a factory, warehouse or school .
###