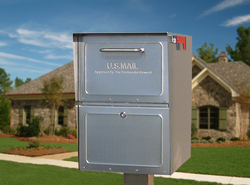 MailCase saw an opening in the market for a quality affordable stainless curbside locking mailbox
Midvale, UT (Vocus) September 27, 2010
MailCase announces their new stainless steel mailbox. The stainless steel MailCase is designed for curbside home or business use.
Identity theft has caused a dramatic increase in the sales and use of locking mailboxes. However, locking curbside mailboxes made from galvanized steel or aluminum are highly susceptible to rust or corrosion. High moisture climates are particularly problematic. Salt spray in the air near coastal areas, as well as salt slush from snowplows in snowy climates compounds these corrosion problems.
Using a high grade stainless steel mailbox eliminates corrosion problems. "Before the stainless MailCase finding a locking curbside mailbox made from stainless steel was very difficult," reports Matthew Prestwich, President of MailCase Locking Mailboxes. "There are several European designs that lock, but these typically are very expensive, use thin gauge steel, and can't take packages," said Prestwich. "MailCase saw an opening in the market for a quality affordable stainless curbside locking mailbox," continued Prestwich.
MailCase uses cutting-edge automation to keep manufacturing costs down. "We knew that for people to buy a stainless mailbox, the price had to be affordable," said Prestwich. "The key was to take our experience automating sheet metal fabrication and apply it to stainless steel. That way we could offer a feature rich stainless locking mailbox for hundreds less than anybody else," he said.
"We are very excited about the opportunities we have in this market," said Prestwich. "With the quality, precision, and price point of our stainless mailbox, we are light years ahead of anybody else," he said.
The Stainless Steel MailCase has standard MailCase features including MailCase's patented Dual Delivery System as well as a tubular lock and tool hardened steel latch.
About MailCase.com
MailCase.com was started in 2008 to combat identity theft. Matthew Prestwich, an entrepreneur based in Utah, is president. Prestwich both designed and had the mailboxes manufactured to meet his rigorous quality expectations and to comply with federal law and USPS Policy. The MailCase Locking Mailbox has been approved by the U.S. Postmaster General.
# # #