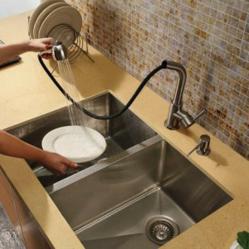 Targeting consumers who look for an affordable good quality kitchen sink to fit their budget HomeThangs has introduced a selection of products along with shopping tips to educate consumers on this matter and help them shop smart.
(PRWEB) July 06, 2012
HomeThangs.com has made their goal to deliver the right product to the consumer, with that in mind, shopping and home design tips, as well as special product selections are being introduced.
Good stainless steel sinks will last for years, and knowing what to look for, will help get an incredible, high quality product for a fraction of the price.
A few tips to keep in mind when shopping for stainless steel kitchen sink:
1 . The very most important thing to remember when shopping stainless steel sinks is gauge. The gauge of a piece of steel is how many times it's been run through a press and thinned. For example 1 gauge steel was rolled once, and 100 gauge steel was pressed thinner and thinner a hundred times. Kitchen sinks usually come in between 16 (the thickest) and 22 or 24 (the thinnest). For the very absolute best quality, a 16 gauge sink would be the best choice, such as this Double Basin Sink from Artisan, but it is also going to cost more.
2. If one is on a budget, anywhere from 18-20 gauge is just fine, and can dramatically lower the price of the sink – in many cases from somewhere in the $600+ range down to $100-200 or so. Now, even so, the lower the gauge on the sink the better, and anything over 20 is not recommended altogether, but to get a good quality stainless steel sink with a more reasonable price tag, dropping from 16 to 18 or even 20 gauge is a great way to cut costs without sacrificing much quality. For example, something like this 20 Gauge Sink from AmeriSink will serve just fine outside an intensive commercial kitchen.
Cons of higher gauge sinks:

It's going to be noisier than a low gauge sink. Everything put in the sink (tossed in silverware, for a good example) is going to make a little tink or thunk when it hits the metal that it wouldn't in a porcelain sink. The thicker the steel, the less prominent the sound will be, because the thicker metal absorbs the impact better. So something like the 16 Gauge Farmhouse Sink from Vigo Industries will make less noise than a 20 or 22 gauge sink and so on.
Steel flexes when it's heated and cooled. That means that while pouring out that gallon or so of boiling pasta water, and for a while after, the sink is going to be flexing and pinging and being generally (albeit mildly) invasive. On the flip side, this really only happens when something very hot is being poured or placed in the sink, and it doesn't last very long and isn't very loud. So, if that's not a major concern, one can safely opt for a higher gauge stainless steel kitchen sink like the 18 Gauge Sink ( VG3021L ) from Vigo Industries.
3. The other very most important marker of quality in stainless steel sinks is the quantity of chrome and nickel it contains. While some materials (like copper) are better when they're more pure, a sink made of pure steel would turn into a giant rusty mess the first time it's used. What makes steel "stainless" is the inclusion of chrome and nickel, which give the sinks their shine as well as their durability. HomeThangs.com recommends to look for a sink like this 18/10 Double Bowl Sink from Dawn that has an 18% chrome content and between 8 and 10% nickel (10% being preferable).
This is one of those things that should be very clearly marked, or at least easy to find. If it isn't, it probably means the sink isn't quite made up to snuff. Markings 18/10 is the best down the line to 18/0, but with stainless steel sinks it's really not something to skimp on. A sink like the 18/10 Sink from LessCare will last much, much longer than one without the right amounts of chrome or nickel, and in this case, it even costs (much) less than similar sinks from bigger name brands.
4. Stainless steel sinks are great in terms of longevity simply because they actually look better as they get roughed up a bit. Stainless steel sinks are a lot of things – stain resistant, easy to clean, difficult to chip or mar – but they aren't scratch proof. It turns out, though, that that's a good thing – like copper sinks, the weathering on stainless steel sinks causes a unique patina to develop. Something like this Nesta Sink from Ruvati is incredibly resilient and will only look better with time.
HomeThangs.com is not only a home improvement superstore, it also provides expert design tips and a comprehensive shopping guide, taking the ideas from professional interior designers, and offering tips to the consumers on how to pick the products to best suit their needs.