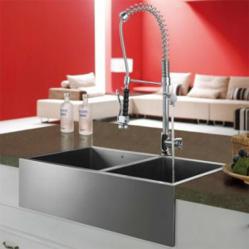 Product specialists at HomeThangs suggest some tips on what to look for when replacing a kitchen sink and a faucet
(PRWEB) July 15, 2012
HomeThangs.com – the Home Improvement Super Store has made their goal to deliver the right product to the consumer, with that in mind, shopping and home design tips, as well as special product selections are being introduced.
HomeThangs noted, that kitchen remodels are among the most arduous and invasive (not to mention expensive) one can do in a home. While one might have a spare bedroom, a second bathroom, or somewhere else to stash a TV while renovating, chances are one doesn't have a second kitchen to use. That's one good reason that, short of the kitchen being severely out of date, it's better to opt for smaller design face lifts than to do a whole scale remodel.
Another good reason is that doing something simple – like replacing kitchen sinks and kitchen faucets – costs a lot less than a major remodel. In fact, replacing existing setup with inexpensive stainless steel sinks and matching kitchen faucets is a way to give that kitchen a modern update in short terms – and on a small budget.
Product specialists at HomeThangs suggest some tips on what to look for when replacing a kitchen sink and a faucet:
1. To get a modern look, a commercial style pull-down faucet, such as the Double Faucet Pull Down VG02007CH by Vigo Industries is something to go for. These faucets lend not only professional quality functionality, but also a sleek, designer finish with a distinctly culinary air. They work best paired with large, farmhouse style stainless steel sinks, such as the Double Bowl Sink VG15101 by Vigo, which can easily accommodate very large pots and pans and make it easy to wash large amounts of food or dishes. They also have a sleek, stainless steel finish that will still match as other kitchen appliances are updated. Total cost - under a thousand dollars for a professional chef-quality setup.
2. With a more conventional double bowl sink in mind, such as the Stainless Steel Sink RVM4315 by Ruvati, a commercial style faucet can still be a good fit. A commercial style kitchen faucet, such as the Pullout Spray Faucet RVF1210CH by Ruvati is a dramatic statement piece in a modern kitchen. Swapping an ordinary kitchen faucet with a highly designed faucet like that will be eye catching, and will change the overall look and feel of the kitchen. Total cost -under $350.
3. Stainless steel kitchen sinks are so popular because they have a clean, finished look that resists wear and tear incredibly well, and holds up better against rough use than porcelain or fireclay sinks. To get the durability of stainless steel sinks in a less-contemporary space, a sink such as the Farmhouse Sink CPAZ-3621-D10 by Artisan paired with a satin-finished, old fashioned country style faucet like the Artisan Vintage Faucet AF-410-SN. Total cost -just over a thousand dollars for a homey look with a very clean, updated finish.
4. If whole counter top replacement is not part of the plan, new stainless steel sinks and kitchen faucets have to accommodate the existing setup. Drop-in sinks, such as the Double Bowl AS 105 by AmeriSink, will work in this case, because even if the hole for the existing sink isn't exactly the same size or shape as the replacement one, the edges of the sink that overlap the counter will hide any uneven edges, or any extra faucet holes that might be left over from the swap. Many modern kitchen faucets, like the simple Single Handle Faucet AS 815BN only require a single opening, so it can be accommodate in existing counter without having to do any additional drilling. Total cost - $350 for a simple but stylish setup.
5. Another advantage of s tainless steel kitchen sinks and kitchen faucets as a quick way to update the kitchen, is that if one knows what to look for, one can get high quality, good looking fixtures for next to nothing. While some high end designers will charge an arm and a leg for even a very simple sink and faucet setup, there are plenty of smaller and less expensive brands out there that will provide the same quality fixtures in similar (sometimes nearly identical) styles at a fraction of the price. Example: LK4b Pull Down faucet and matching Undermount Sink LCLP2 from LessCare– both are made of high quality materials with nice finish, designed to both look good and to last, but only cost about $400.
6. Stainless steel sinks and fixtures are easy to match. While steel sinks may vary somewhat in quality and style, they're ultimately pretty similar in finish no matter where they bought from. And the same goes for the matching chrome or satin faucets – there's really no visual penalty for shopping around. For example, the swan-like Pull Down Faucet AB50 3084BN and matching Apron Sink DAF3320C from Dawn, - a similar sink can be found elsewhere and be less expensive (like the slightly smaller but similarly styled Farmhouse Sink RVH9100 from Ruvati), shopping around, mix and match helps to get the right look at the lower price. Total cost - just over a thousand to stick with one brand, about $600 to swap out the sinks.
To update the look and feel of the kitchen without a full sized renovation, swapping out the old kitchen sink and faucet is a way to go. If shopping smart, it won't cost much.
HomeThangs.com is not only a home improvement superstore, it also provides expert design tips and a comprehensive shopping guide, taking the ideas from professional interior designers, and offering tips to the consumers on how to pick the products to best suit their needs.