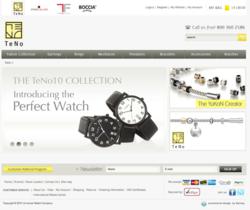 "We no longer have the need for IT support in our office..."
Las Vegas, NV (PRWEB) June 14, 2011
Las Vegas based Universal Watch Co., Inc. has, in an effort to increase sales and customer relationships, made a transition from traditional server-based business applications and third party e-commerce hosting to the innovative cloud computing club, specifically Netsuite, Inc.
Universal Watch Co., Inc. (UWC) is the United States distributor for TeNo Stainless Steel, Boccia Titanium, The TitanFactory, and Steel Blaze jewelry, watches and accessories. UWC also operates three Las Vegas-based retail stores, has three additional consignment stores and operates a successful e-commerce business at http://www.teno.com. UWC's extended business operations are the perfect fit for cloud-based Netsuite. Netsuite is the industry's first and only Software-as-a-Service (SaaS) business software that supports an entire company. With Netsuite and UWC integration, it is now possible to run the entire business from a web browser and store all the company's data on the internet.
"We needed to streamline our business," states UWC president, Raphael Cohen. "We have now linked all our business processes together more adequately. We were suffering in our stores and our office from slow connections and down servers. In the past, customers have walked out of our retail stores when transactions took too long. That should never happen."
"We no longer have the need for IT support in our office," says Nadine Kluger, Vice President of Marketing and Advertising. "Software upgrades used to be a dreaded event we would avoid until it was absolutely necessary. Each time we updated our software, there was always the chance we may lose data or be temporarily out-of-business. Now, it's done automatically on the internet. It's no longer our problem."
UWC is now able to give the customer a much more enjoyable experience in their stores and on their website. There are no longer delays in the retail stores and flustered sales people. On the e-commerce site, there are a collection of new features not previously available from the 3rd party website hosting. The site has been streamlined and organized for easier navigation. Item availability is always accurate now that it is linked to Netsuite. There is now a handy "My Account" feature enabling the customer to see his or her past orders and make returns. Customers can also checkout via Paypal and Google Checkout in addition to the standard credit card options. Another new feature is the Customer Referral Program, allowing customers to earn coupons towards future purchases by referring their friends. "We are also now able to let the customers share the products from our website on social media sites like Facebook and Twitter. We never had this capability before," says Nadine Kluger. "Our customers can do our advertising for us!"
Since going live with Netsuite, UWC has been able to provide a more personalized customer service experience, reduce costs and increase productivity. Web Revenue has increased 20%. Retail store sales are up 10%. Check-out cart abandonment is down almost 50% and the average sale has risen 25-30%.
Universal Watch Co., Inc. (UWC) is the United States distributor for TeNo Stainless Steel, Boccia Titanium, The TitanFactory, and Steel Blaze jewelry, watches and accessories. UWC was founded by Raphael Cohen in 1994. After spending 20+ years in the retail jewelry and watch industry, Raphael used his knowledge and experience to expand into the wholesale distribution field. He has consistently used his love of technology to become more successful. Since it's inception, UWC's main focus has been to supply both the retailer and the end customer with top quality products and services.
###