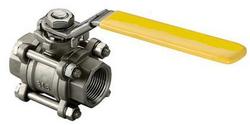 Our goal is to increase the availability of high quality stainless fittings, fasteners and valves to consumers, regardless of location.
Dallas, Texas (PRWEB) May 20, 2010
Dalrock Industrial, a Texas based distributor of non-ferrous pipe fittings and valves, announces the launch of a new e-commerce website featuring a wide variety of stainless steel and brass pipe fittings, valves, and fasteners.
"There are plenty of distributors who sell the basics, but we wanted to do something different," says Dalrock Industrial President Paul Seibert. "Our business is unique in that we offer such a wide range of products and materials. We carry things like 316 stainless steel high pressure socket weld fittings, items that can be very hard to find elsewhere."
The new venture offers online customers a wide selection of valves and fittings for industrial, marine and commercial applications. Materials available include 304 and 316 cast stainless steel pipe fittings and pipe nipples in 150PSI ratings, as well as forged high pressure rated fittings in 1000PSI and 3000PSI ranges. The company also offers brass pipe fittings, nipples and flanges, brass and stainless steel ball valves, as well as stainless steel fasteners and pipe repair clamps.
"Our goal is to increase the availability of high quality stainless fittings, fasteners and valves to consumers, regardless of location," said Seibert. "There are many people and organizations that don't have access to a one stop shop like this in their local market. Our new website brings them high quality parts, ease of ordering and competitive pricing for many hard to find products - all under one roof."
The new site offers users extensive drill down capabilities through navigation menus that include high resolution graphic images of products. Seibert adds, "It's important for the customer to see exactly what he's going to get. Our navigation and order processing system is very simple and intuitive so orders can be placed in the fewest possible steps."
Dalrock Industrial seeks to leverage its current position as stocking distributor of industrial valves and fittings in the Dallas, Texas market to expand distribution throughout the US. "We're pleased with the initial response to our new site," says Seibert, "We've already attracted customers from California to Maine, from the brewing industry, the marine industry all the way to high tech research and development and government customers."
About Dalrock Industrial:
Dalrock Industrial is a subsidiary of Dalrock Fastener & Supply, Inc., headquartered in Garland, Texas. Dalrock was founded in 2004 as a stocking distributor of pipe fittings and valves serving industrial customers in the Dallas-Fort Worth area. In 2010, Dalrock Industrial expanded from its regional focus with the launch of its e-commerce website, dalrockindustrial.com.
Contact:
Paul Seibert
1715 Wall Street, Suite 102
Garland, Texas 75041
(972) 840-4600
###