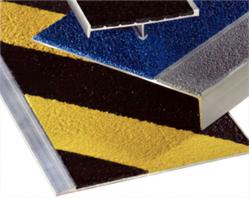 These indoor or outdoor stair treads and nosings are attractive and meet or exceed OSHA and ADA requirements
Cleveland, OH (PRWEB) May 17, 2013
Martinson-Nicholls new slip-resistant stair treads and nosings are an eye-catching, resilient, slip-resistant renovation tread used on steps that require an anti-slip surface. Designed for new construction or staircase renovation projects, our treads and nosings deliver maximum safety and durability while providing a look to compliment building designs. Bold Step is strong enough for industrial applications, but attractive enough for home stairs such as basement or deck steps.
These new renovation stair treads, safety plates, anchor nosings and treads are made of an aluminum extrusion inlayed with mineral epoxy grit. Offered in seven standard colors and a variety of sizes, customers can create a look that compliments a building's overall appearance while providing maximum anti-slip safety. Custom colors can also be provided to match any decor.
Bold Step aluminum extrusions are a permanent, attractive solution for worn, slippery and dangerous steps. Designed for use on interior or exterior steps and landings, Martinson-Nicholls' anti-slip coating system resists chips, scratches, dirt, stains and oils. Periodic washing keeps these steps looking like new. Seven standard and many custom colors allow creating custom steps to match the overall design of any building.
"These indoor or outdoor stair treads and nosings are attractive and meet or exceed OSHA and ADA requirements," according to Dan Ruminski, company president.
The new Bold Step line also includes aluminum and iron cast abrasive nosings, as well as aluminum stair treads inlayed with Sure-Foot Master Stop tapes. These stair treads are pre-drilled with countersunk holes for easy installation. Fasteners and custom miter cuts can be provided.
Bold Step Renovation treads may be applied to new or existing structures made of wood, concrete or metal. The treads and nosings meet or exceed recommended values for slip resistance on wet and dry surfaces.
About Martinson-Nicholls
Martinson-Nicholls, has established itself as a leader in custom anti-slip tape, floor mats, and eco-friendly products for more than 25 years.
Martinson-Nicholls provides the customer with the exact size matting needed--small, large, standard, nonstandard, special shapes and logos. Custom installations are also a specialty of the company.
Anti-slip safety tapes and treads are available in various sizes and textures from hand cut or die cut pieces to full rolls and special shapes. For more information, please visit http://www.floormat.com.