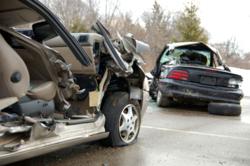 We rehabilitate the injury and target any associated pain or stiffness relating to the injury for long term relief.
Stamford, CT (Vocus/PRWEB) April 12, 2011
Dr. Jon Sirota and his staff at the Sirota Chiropractic Centers have increased their focus on patients that are recovering from auto accident injuries. The Centers are located in White Plains, NY and Stamford, CT and provide chiropractic care, wellness plans, and rehabilitative therapies. Dr. Sirota's Centers have medical and legal professionals on staff to assist patients who have suffered auto and work-related accidents. Current and prospective patients that have suffered an injury can visit Dr. Sirota's website, http://www.drsirota.com, to find out what services the two Centers provide and how the Centers assist injured patients.
Dr. Jonathan A. Sirota has been practicing chiropractic care, sports medicine, and wellness counseling for over 20 years. In addition, Dr. Sirota has experience providing care and assistance to patients with auto accident injuries. "An auto accident is a traumatic time for anyone and we want to help ease that pain here at Sirota Chiropractic Centers with fast and effective chiropractic care," says Dr. Jon Sirota. Auto accident injuries can include a variety of patient issues, such as whiplash, back pain, neck pain, knee and leg trauma, as well as spinal cord damage. Sirota Chiropractic Centers treat these patient conditions and injuries with chiropractic care and spinal manipulations, physical therapy, massage therapy, and rehabilitative exercises. Dr. Sirota stated, "chiropractic care is helpful in preventing long term injury for patients that have been involved in auto accidents. We rehabilitate the injury and target any associated pain or stiffness relating to the injury for long term relief. In addition, there are no out of pocket charges for any patient whom receives Chiropractic care as a result of injuries from their car accident, in 99% of cases"
Along with providing rehabilitation for auto accident patients, the Stamford and White Plains chiropractor maintains a close relationship with personal injury attorneys. Dr. Sirota and his attorneys work together to assist auto accident and work-related injury patients with navigating the legal and medical claims process. The chiropractor's website has a tab titled "Accidents: Auto and Work-Related" that lists some of the entitlements that injured patients can receive. The chiropractor states, on this portion of his website, that he and his professional medical and legal team members will help patients rehabilitate from the injury and assist patients in claiming their entitlements.
The website for the two chiropractic Centers also lists other services and patient conditions that Dr. Sirota treats. Dr. Sirota is an Orthopedic Chiropractor, provides sports medicine, and physical therapy for patients suffering pain or injuries. Patients interested in scheduling a visit or learning more about the two Centers and Dr. Sirota can visit the website to read articles on chiropractic care, make an appointment through the website, or get directions to one of the two office locations.
Dr. Sirota has two locations, in Stamford and White Plains, providing chiropractic care, injury rehabilitation and sports medicine. The Centers also provide rehabilitative and legal assistance to patients that have suffered an auto accident injury. Patients wanting more information about all the services Dr. Sirota provides can visit the doctor's website to read articles and access links to further information.
###