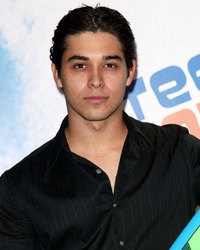 Clifford's Really Big Movie
Phoenix, AZ (PRWEB) March 19, 2009
"THE" (expthe.tv) announced the collaboration with Wilmer Valderrama today. Along with other industry celebrities, Valderrama has endorsed the event known as "THE" - pronounced tay.
"THE" is a modeling and acting event occurring twice in 2009. The first successful "THE" event occurred in Phoenix, Arizona, in August of 2008. The next scheduled event will be held on May 7, 2009, at the Stamford Marriott Hotel and Spa in Stamford, Connecticut, where the talent search will bring aspiring models and talent together with leading modeling and talent agencies from Los Angeles, New York, and other major markets across the country.
According to event Director of Operations, Nathan Biay, "our 'THE' event will include intensive acting and modeling orientations, industry seminars, and industry networking party, talent showcasing opportunities with dozens of industry professionals, and a red carpet experience at the closing night awards celebration where participants have a chance to win over $50,000 in cash prizes!" Videos from the first event can be viewed online at __expthe.tv__. Here is the prize breakdown for the Stamford, CT event:
Cash Prizes are divided by age divisions (6-10, 11-13, and over 14)
3 First Place Winners - $10,000
3 Second Place Winners- $5,000
3 Third Place Winners - $2,500
Valderrama is just one of many celebrities endorsing this unique experience for young people. You may have seen Valderrama on "That 70s Show" as the character Fez, the foreign exchange student who was learning the language and the social customs of the United States. Or, possibly you've seen him on the currently-running series that he hosts: "Yo Mamma." He has also appeared in a number of movies over the last eight years.
With a Venezuelan father and a Colombian mother, Valderrama was born in Florida on January 30th, 1980. After moving to Venezuela when he was three, he returned to the US with his family to live in Los Angeles at the age of thirteen. Upon Valderrama's return to the United States, he did not speak much English and had culture shock when he began classes at Taft High School in Woodland Hills, California. His talent for acting became apparent during his sophomore year when he began performing in plays - a school activity that also helped him improve his English. A drama teacher felt he had some talent; this encouragement motivated him to find an agent. After making his television debut, he still appeared in some high school plays, including "Rumors" and "The Impossible Years."
After procuring talent agency representation, he landed his first commercial. His first television appearance was in the series "Omba Makomba" on the Disney Channel in 1998. Then, he went on to appear in the miniseries "Four Corners." It was after this that "The 70s Show" first debuted. His first movie, "Summer Catch," was released two years afterwards, and he has continued to perform on the big screen.
Valderrama has also done voice-over work, in both "Clifford's Really Big Movie" and "The Condor." He's also the voice of Manny in the children's series "Handy Manny." He even has his own men's fashion label, named "Calavena". He is a very versatile actor that continues to hone his skills.
"THE" is extremely excited about this endorsement from Valderrama, and are pleased to add his name to the growing list of celebrities endorsing the Stamford, CT, event. To view a Tentative Schedule of Events visit: __blog__for__expthe.tv__.
ABOUT "THE"
Participants showcasing their skills and talent at a "THE" event showcase their many talents in various venues, such as scene work, monologue performances, modeling on the runway, cold reads, and much more. These activities allow the guest industry professionals to see a variety of skills and experience the participants possess. The showcasing events at "THE" also provide every participant the experience of auditioning professionally with almost immediate feedback; which is a rare and unique opportunity in itself.
###