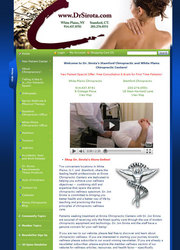 Some patients like relief from pain only. Others want relief, and to be educated on prevention. They ask, 'What can I do at home?, What stretching exercise can I do?'
Stamford, CT (Vocus) October 26, 2010
Stamford Chiropractor, Dr. Jon Sirota, has just released a newly expanded and enhanced website for his clients in Stamford, CT and White Plains, NY. The website, DrSirota.com, now includes advanced features that allow patients to request appointments online and follow the latest in health news via the recently added blog feature, as well as many other state of the art features.
The new site not only includes an extensive library of medical conditions that can be helped with expert chiropractic care, but it also has a virtual personal trainer. With over 100 virtual strengthening exercises to chose from, this revolutionary feature assists patients with their work outs from the comfort of their home at no charge. Dr. Sirota comments, "Some patients like relief from pain only. Others want relief, and to be educated on prevention. They ask, 'What can I do at home?, What stretching exercise can I do?'" With the new website, continued chiropractic care is just a click away.
The website's article collection of publicly accessible community topics includes information about the history and practice of chiropractic, specific problems that may be addressed by chiropractic treatments such as headaches, back pain and carpal tunnel syndrome and the "wellness approach," which Dr. Sirota espouses in contrast to standard medical care. The site also includes a glossary of wellness terms meant to aid new and returning patients alike.
"The goal of this website, and one of my personal goals as a chiropractor, is to provide people with the tools they need to lead a healthy lifestyle," says Dr. S. "Many people don't understand that taking care of your body and spine is the same as taking care of your teeth. You brush your teeth every morning right? You go and see the dentist for check ups? Why wouldn't you devote the same effort to your spine, the center of your body?"
The revamped website provides extensive resources for both patient education and patient health resources including a chiropractic blog and a featured articles section that is dedicated to the latest health topics. Visitors to DrSirota.com will also find online forms to fill out before their first appointment and a new patient orientation guide letting them know what to expect when they visit the chiropractor's offices in Stamford or White Plains. Overall Dr. Sirota's website is a thorough chiropractic resource for not only those in the Stamford, CT or White Plains areas, but anyone wishing to benefit from an experienced chiropractor's care.
###