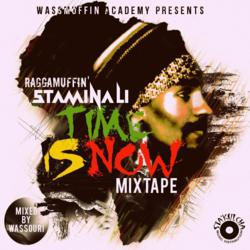 seven sisters (PRWEB UK) 8 April 2013
This highly anticipated album displays his versatility and skillful nature as a writer. It also displays his innate ability as a powerful chanter where he has been dubbed "one of the most prolific Sound-System mic chanters in the country." Mixed by Wassouri of the Wassmuffin Academy, this diverse album encompasses a variety of musical genres.
Come enjoy the musical journey this Tuesday 9th April in North London as STAMINA LI gives you the best of him. This is one event not to miss as STAMINA LI showcases his many flavors with dancehall, reggae, Nyabinghi and hip hop. Experience some real entertainment with love vibes from searing performances by Afrikan Simba, Sista Lexxy, Reality Souljahs, Aslan (12Jewelz), Empress Jahsent, Clued Up, King Saint and DJs Sister Joseph (Conscious fm), Roots Hitek & Zebby NiceTimes and compeered by foundation artist Aretha Marie-Jah.
This album shows the seriousness of STAMINA LI's artistry as there are no frivolous filler tracks on the album. Listeners will be moved with the opening track "Stop Faking It," and captivated by a plethora of conscious hip hop heavy weight tracks such as" The Real Sta,' which talks about what STAMINA LI is all about. Be amazed with two 12Jewelz productions on "Swamp 81," and "The Black Magician," which features hip hop artist Aslan. STAMINA LI welcomes French rappers on "French Legion," and gives us a Creole/Patois infused one drop reggae song with "Mwen Pa Ni Tan," paying homage to his native Martinique.
Save the date and come savor pure vibes of love and sweetness this Tuesday at Orleans Night Club @261 Seven Sisters Road, N4 2DD. Doors open 10.30 pm-3.30 am – show time starts 12 am sharp. Contribution is £6. Contact Jono at 07982716770 or visit Kings Cross Midia's music video production site for more info.