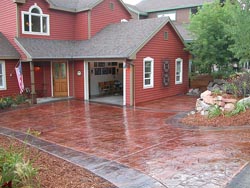 Daly City, CA (Vocus/PRWEB) April 09, 2011
For many people, when they think about "green building," concrete isn't necessarily the first thing that comes to mind. But JD Dominguez, owner of Dominguez Construction in San Francisco, explains that the material is efficient, durable and has a high thermal mass. He helps homeowners go green by implementing the use of concrete on all jobs, from driveways to patios to concrete foundations, in San Francisco and around the Bay Area.
Dominguez has a very "green" family and they recycle at every opportunity within their home. So he wanted to help create a more environmentally friendly concrete for his clients. Most concrete is made primarily from limestone, which is the most abundant mineral on the planet. Concrete can also be made from waste byproducts of plants, steel mills and other manufacturing facilities, so it is recycled and recyclable.
Structures made out of concrete have a lifespan double or triple of those made of other common building materials because it is strong and sturdy. Unlike metal or wood, it is not susceptible to rusting, rotting or burning.
What's even more remarkable about concrete is that building owners can even cut their heating and cooling bills and install smaller-capacity HVAC equipment. This is because building walls, foundations, and floors made of concrete have an inherent ability to absorb and retain heat.
In addition to all that, concrete is more cost effective and is easier to maintain than grass, granite or marble. Through their concrete designs, Dominguez construction offers not only sturdy and economical structural works for the people, but also protection of the environment.
For more information about making a structure more green with concrete or any of Dominguez Construction's other services, phone them at (415) 504-3595 or visit their website at http://www.dominguezglobal.com.
About Dominguez Construction
Dominguez Construction is a full service general contractor specializing in stamped concrete, concrete foundations and concrete handicap ramps in San Francisco and the Bay Area. Their services include stamped concrete driveways, stamped color concrete patios, decorative concrete driveways, commercial parking lots, monolithic concrete floors, and cement foundations.
Dominguez Construction serves the entire San Francisco Bay Area, including the communities of Albany, Atherton, Belmont, Berkeley, Brisbane, Burlingame, Daly City, Emeryville, Fremont, Foster City, Half Moon Bay, Hillsborough, Los Altos, Los Gatos, Menlo Park, Mountain View, Oakland, Pacifica, Palo Alto, Portola Valley, Redwood City, Richmond, San Carlos, San Francisco, San Jose, San Mateo, San Rafael, Santa Clara, Sausalito, Tiburon, Walnut Creek, and Woodside.
# # #