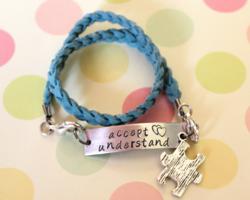 ...by raising awareness each child with autism can live in a more tolerant and kind world.
Senoia, GA (PRWEB) June 25, 2013
Every 11 minutes, a family in the United States learns that their child has autism, a complex disorder of brain development. In order to highlight the growing need for concern and awareness about autism, Stamped Sentimentals has developed an Autism Awareness Jewelry Collection and donates a large portion of the proceeds to Autism research, support and awareness causes.
For those with autism, one of the most difficult things to deal with is the looks and the comments that other people give them when they are just being themselves. Nicole Goulding, Stamped Sentimentals Manager of Product Design and Development, said of this difficulty, "I sincerely hope that by raising awareness each child with autism can live in a more tolerant and kind world."
Autism disorders are characterized, in varying degrees, by difficulties in social interaction, verbal and nonverbal communication, repetitive behaviors and can also be associated with intellectual disability, difficulties in motor coordination and attention and physical health issues such as sleep and gastrointestinal disturbances. The many struggles associated with autism has lead Stamped Sentimentals not only to donate proceeds from Custom Stamped Jewelry Sales to support Autism Awareness and Research but also to support awareness drives through participation in events such as the Walk Now for Autism Speaks, which invests millions of dollars to fund research into the causes, prevention, treatments, and cure for autism.
Speaking of her bright, young, autistic child, Kimi Holt, said, "My son ... excels academically. He struggles making social connections. He has massive anxiety. He has a contagious laugh. He is kind. He is AMAZING. I have no desire to change my son. I hope to help him cope better with the world around him and the fact that there will always be people who just DO NOT care to understand someone else's situation."
Those interested in supporting Autism Awareness and joining Stamped Sentimentals in getting involved with the autism community can view their Custom Jewelry Collection at StampedSentimentals.com. Showing support is easy and rewarding and can be very uplifting and positive for those who assist and for people with autism.
About Stamped Sentimentals:
Stamped Sentimentals LLC, founded on the idea of preserving special memories and providing emotional strength through custom hand stamped jewelry, is recognized for it's one-on-one approach to customer service. Stamped Sentimentals specializes in bringing the emotion of each memory into each piece of jewelry. They offer free design consultation, personalization on every product and an outstanding satisfaction guarantee.