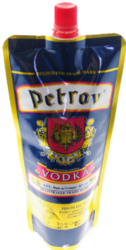 "Barrier film packaging is a win-win solution for marketers and consumers," says Marinac. "Quality beverage brands can reduce their production costs and expand their presence on major retail shelves by rethinking distribution and branding strategies.
Cleveland, OH (PRWEB) May 02, 2013
Joining a long list of flexible material experts, David Marinac will address the packaging industry at an international conference this June with a presentation on specialty barrier films. Specifically, Marinac's session will explore stand-up pouches as a smarter vehicle for packaging, distributing, and marketing liquids—including alcoholic beverages. Mr. Marinac is the president of StandUpPouches.net, a leader in packaging design and production, specializing in stand pouches—one of the fastest-growing segments in the sector.
"As a society, our packaging has gotten fat," explains David Marinac, president of StandUpPouches.net and featured speaker at the Multilayer Packaging Films conference, to be held at the DoubleTree Chicago Magnificent Mile. "Rigid containers are heavy and wasteful. Stand-up pouches are gaining traction because they're less expensive to produce, they provide more customizable surface area for branding, and they keep contents fresh for a longer period of time. From a consumer perspective, lightweight pouches also show that companies care about the environment. Pouches are landfill-friendly, recyclable, and they consume less energy in shipping."
By focusing on stand bags for wine and spirits, Marinac's presentation addresses two significant market trends for better liquid packaging. Both stand-up pouches and adult beverages are reporting annual gains along with strong upward momentum through 2013. Pouch packaging sales are expected to reach $4 billion by 2016, according to an Allied Development Corporation Study. Meanwhile, wine and spirit sales continue to climb, despite a slow economic recovery.
For more information on stand-up pouch technology, or custom pouch design and production, visit the StandUpPouches website.
About StandUpPouches.net
StandUpPouches.net designs and supplies custom, stand-up packaging made from multilayer, laminated film. SUP pouches keep products fresher, longer, while protecting contents from moisture, vapor, oxygen, odor, light, or puncture. StandUpPouches.net is a division of ABC Packaging Direct, based in Cleveland, Ohio.