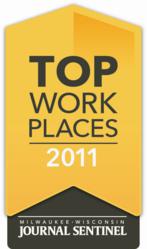 It is because of our employees' passion and their drive that Standard Process continues to be successful.
Palmyra, WI (PRWEB) May 31, 2011
Leading manufacturer of nutritional whole food supplements, Standard Process Inc. (http://www.standardprocess.com) today announced that the company has been named a 2011 "Top 100 Southeastern Wisconsin Workplace" by the Milwaukee Journal Sentinel for the second consecutive year. This year, Standard Process moved up five spots to number eight on the list of the top midsized companies.
"We are honored to be on the Top Workplaces list again," said Charles C. DuBois, president of Standard Process, who spoke on behalf of his family, the third generation owners of Standard Process. "We thank our employees for this recognition because we received it based solely on their feedback; their dedication to their work and commitment to Standard Process truly motivates me and my family. It is because of our employees' passion and their drive that Standard Process continues to be successful."
The "Top Workplace" honor is given to companies with the best reputation among their employees as compared to other participating companies. Through an anonymous survey, conducted by Workplace Dynamics of Exton, Pa., employees responded to questions about their workplace, including: direction, execution, career, conditions, managers, and pay and benefits. Companies are grouped in small, midsized, and large categories. Of the 70 midsized companies surveyed, 35 were recognized as a top workplace.
Standard Process also recently received a special award from the Wisconsin Family Business of the Year award program for its community leadership and employer relations. Since 2007, Standard Process has appeared on the Inc. 5,000 list, Inc. magazine's listing of the fastest-growing private companies in America, and among the top largest, closely held businesses in Wisconsin since 2008, as named by Deloitte & Touche. Gold awards for its health and wellness program have also been presented to Standard Process by the Wellness Councils of America (WELCOA) and the Wisconsin Governor's Worksite Wellness Gold Award.
About Standard Process Inc.
For more than 80 years, Standard Process, headquartered in Palmyra, Wis., has provided health care professionals with high-quality, nutritional whole food supplements. Standard Process offers more than 300 products through three product lines: Standard Process whole food supplements, Standard Process Veterinary Formulas (http://www.spveterinaryformulas.com), and MediHerb (http://www.mediherb.com) herbal supplements. The products are available only through health care professionals.
Standard Process is involved in every step of production. The company grows crops on company-owned, organically certified farmland, utilizes state-of-the-art manufacturing processes, and employs the highest quality control standards. Standard Process strictly adheres to the Food and Drug Administration's good manufacturing practice requirements. Through these measures, Standard Process can ensure that its products are of the utmost quality and potency.
For additional information about Standard Process, visit http://www.standardprocess.com.
# # #