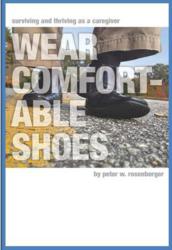 Caregivers often suffer from the "3 'I's," - loss of Independence, loss of Identity, and Isolation. Through this show, we want to reach those feeling overwhelmed and alone - and introduce them to a community where they can draw strength from each other.
Nashville, TN (PRWEB) May 08, 2013
Helping his family navigate through a $9,000,000 medical catastrophe that has included 78 surgeries, multiple amputations, 60 doctors, 12 hospitals, and 7 insurance companies over the past 27 years - has earned Peter Rosenberger the wisdom of a theoretical PhD in Caregiving. On May 12, Peter will share that wisdom with others through the new radio show he launches on Nashville's mega talk radio station 1510 WLAC AM (Clear Channel - I Heart Radio).
With a "PhD in caregiving from the school of hard knocks," Rosenberger is turning his trial into a trail for others to follow. In his newest book, Wear Comfortable Shoes - Surviving and Thriving as a Caregiver, he offers leadership, the voice of experience, and easy steps that enable caregivers to adjust their burdens - while improving their abilities attend to the needs of someone they love.
Recognizing and addressing the critical issue of medical insurance for today's chronically ill, Wear Comfortable Shoes also speaks directly to the heart of a caregiver by offering assurance and the calming voice of "one who has been there, still there, and thriving in it."
About Peter W. Rosenberger
Author, speaker, and now radio host, Peter W. Rosenberger is the president of Nashville, TN based Standing With Hope - an evangelical outreach whose flagship program provides artificial limbs to amputees in developing countries. Drawing upon his unprecedented journey through his wife's horrendous ordeal, Peter has emerged as a voice of leadership to so many who are buckling under the strain of caring for a chronically ill loved one.
Whether through live events, his books/blogs, or his radio show, Peter's outrageous humor and deep passion for fellow caregivers, is equipping others to stay healthy, employed, and even laughing amidst the challenges of caregiving.