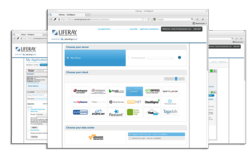 Enabling Liferay users to choose from more than 15 leading hosting providers from a single interface is a key benefit & unique advantage of Standing Cloud"
- Brian Kim, COO, Liferay
Boulder, CO (PRWEB) January 15, 2013
Standing Cloud, a leading provider of cloud marketplace and management solutions, and Liferay, Inc., provider of the world's leading enterprise-class open source portal, today announced a new agreement making one-click test-drives, deployment and hosting of Liferay Portal instantly available on more than 15 public clouds through Standing Cloud.
With Liferay powered by Standing Cloud, users can easily evaluate Liferay Portal with a 30-day, no-cost, fully functional hosted demo in the cloud. Then, it's just a few clicks to upgrade seamlessly at the end of the trial, with a single bundled monthly price for the license and hosting. Users can choose the hosting provider, data center and geography of their choice from among wide range of leading public cloud providers, including Rackspace, Amazon Web Services, HP Cloud, Microsoft's Windows Azure and more.
"The ability to host Liferay Portal through Standing Cloud further accelerates our platform's readiness for use in cloud-hosted environments," said Brian Kim, Chief Operating Officer for Liferay. "Enabling Liferay customers to choose from more than 15 leading hosting providers from a single interface is a key benefit and unique advantage of Standing Cloud, and we're pleased to be working with them."
Liferay deployments hosted through Standing Cloud are completely portable from cloud-to-cloud, so users are never locked in to a single platform or cloud provider. They can quickly add capacity or move to another cloud, and are protected against downtime and service outages. Because Standing Cloud uses scripted deployments rather than binary images or pre-configured packages, it offers increased development flexibility, stability and portability, even for customized Liferay deployments.
In addition, Standing Cloud's automated application lifecycle management features give Liferay customers easy point-and-click access to a range of automated management services, including 24/7 server monitoring and backups, version upgrades, resource scaling and more.
"Providing single-click managed hosting, provisioning, deployment and management of Liferay Portal on a wide range of cloud providers at a simple monthly bundled price with no cloud lock-in is a great value-add for Liferay and their customers," said Michael Ficco, Vice President of Business Development for Standing Cloud. "By reducing the hassles of downloading software and configuring servers, and making it easy to spin up trial 'test drives' and upgrade seamlessly after trial, we're excited to help Liferay grow its customer base in the cloud."
A flexible, scalable platform for content management, collaboration and social networking web solutions, Liferay Portal enables enterprises, small and mid-sized businesses and non-technical users to easily and effectively publish, organize and access data and content, and quickly create applications to facilitate business processes online. There are an estimated 500,000 deployments of Liferay Portal worldwide.
ABOUT STANDING CLOUD
Standing Cloud is a leading provider of cloud application marketplace and management services. We deliver a seamless application layer for cloud service providers, ISVs and technology solutions providers, making application deployment and management fast, simple and hassle-free for their customers.
Our standard application catalog includes 100 open-source and commercial applications; our platform supports multiple programming languages and a wide range of cloud service providers and orchestration software systems.
Founded in 2009, Standing Cloud is based in Boulder, Colorado. Investors include Foundry Group and Avalon Ventures. Learn more online at http://www.standingcloud.com.
ABOUT LIFERAY
Liferay, Inc. is a leading provider of enterprise open source portal and collaboration software products, servicing Fortune 500 companies worldwide. Clients include Allianz, BASF, Cisco Systems, Lufthansa Flight Training, Société Générale, Rolex SA, Siemens AG, The French Ministry of Defense, and the United Nations. Liferay offers Enterprise Edition subscriptions, which provide access to emergency fixes, software updates, 24/7 support SLAs, and subscription-only features. Liferay also offers professional services and training to ensure successful deployments for its customers.
Liferay, Liferay Portal and the Liferay logo are trademarks or registered trademarks of Liferay, Inc., in the United States and other countries.