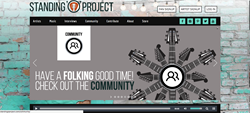 "It's a real community and we all contribute," says Nesbitt
Albuquerque, New Mexico (PRWEB) November 14, 2016
Working musicians face serious challenges in the age of music streaming. CD sales and digital downloads are rapidly declining, and most music is now accessed via streaming platforms like Pandora, Spotify, and Apple Music. Streaming services are notorious for minuscule artist payouts, it's becoming more difficult than ever for independent musicians to earn a decent living.
Entrepreneurs, John Dillon and Viv Nesbitt of Heliotrope Productions, Inc. have championed singer/songwriters and given them a virtual stage for over 13 years. They host and produce the syndicated public radio program, Art of the Song, heard weekly on over 100 stations and online (artofthesong.org). Recognizing the challenges in the music business, they began working on a
solution in 2013.
A New Business Model
The Standing 'O' Project (standingoproject.com) is an online streaming community that creates a real revenue stream for musicians. Unlike the above-mentioned streaming services (which pay artists by how many times their songs are streamed), the Standing 'O' Project pays artists for bringing fans into the community. Every month a full 50% of the membership revenue goes back to the musicians. Signing up just one subscriber equals as much income as several thousand streams per month on popular streaming sites. Artists join for free. They "invest" in the project by sharing their music and actively inviting fans to join.
Fans join for $5 or more a month––it's a pay-what-you-can model. They get full access to music and other content from all participating artists, as well as an archive of over 200 Art of the Song programs featuring interviews with well-known artists like Smokey Robinson, Joan Osborne, Roger Daltrey, Judy Collins, Leon Russell, Lucy Kaplansky, Richard Thompson, and the late Glenn Frey. "It's a real community and we all contribute," says Nesbitt. Business writer Andrew Marshall in an article in Forbes.com, describes the project as, "…incredible value for a small monthly fee. Think of it like micro-patronage of the arts. You too could be a mini-Medici…"
Fair Trade Coffeehouse Music
The Standing 'O' Project is now offering a continuous stream of music curated especially for independent coffeeshops. Fair Trade Music for Fair Trade Coffeeshops, is available to any coffeeshop wanting to demonstrate social responsibility by playing background music that doesn't exploit musicians. Shops earn a referral fee when their patrons join the Standing 'O' community. Ensuring the Future of Music
In addition to creating a direct revenue stream for working musicians, the Standing 'O' Project commits a portion of proceeds to Spread Music Now, a non-profit that funds music-in-schools programs. According to Dillon, "It's vitally important that young people grow up in a world where music is seen as a viable career. Otherwise, Don McLean's classic song, American Pie, where he sings of "the day the music died," will become a tragic reality."
Media contact: John Dillon, john(at)standingoproject(dot)com, 505-881-0976