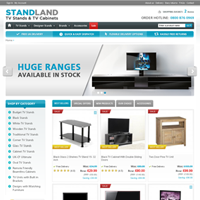 (PRWEB UK) 26 November 2012
With the internet being at most people's fingertips it makes life so much easier to shop online rather than trawling busy High Streets, shopping malls or retail parks to buy household goods. Take TV stands for instance, there's now a fantastic company that advertises many products associated with televisions and furniture for the home at very affordable prices.
Ordering via the net is so straightforward and time saving that many people are buying goods of all descriptions this way. One such company can be accessed on http://www.standland.co.uk where browsers will see fabulous television stands that will suit any décor and provide a great looking piece of furniture. With Christmas coming soon just think how pleased a family will be when they can watch their favourite programmes on a TV that is sitting on a beautiful stand or cabinet.
Making the decision of which TV stand to order online could present a slight dilemma as there are so many to choose from, they range from glass topped designs, cabinets with shelves to wooden units that will add warmth to your décor. Once a decision has been made, ordering online is quite straightforward especially with Standland's new website that is easy to navigate even for the not-so-worldly computer users. The content of the site is interesting to read and states in clear terms what each television stand is made of, the price and of course the dimensions.
For people who are into designer goods check out the quality AV real wood cabinets, hi gloss black AV furniture, or hi gloss white AV furniture, all are stunning to look at and would make a fantastic addition to your present furnishings. If storage is of a premium in your lounge order one of the TV cabinets that's available to keep magazines, books, DVDs, CDs, gaming consoles or your satellite box in. Close the glass sliding doors to make the unit look neat and tidy while at the same time having easy access to possessions when needed.
If a lounge is on the small side there are suitable television stands that won't look out of place when ordered from Standland. Should users need any help just make contact with a member of staff who will be more than happy to offer assistance. Contact can be made by telephone or completing an online enquiry form.
All in all Standland is one company that can be totally relayed on for first class products, a friendly customer service and delivery that is second to none. Don't wait any longer to order a television stand via the net, do it now, just in time for Christmas!