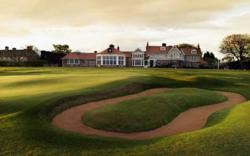 Ernie Els - to Adam Scott "Sorry, You're a great player, a great friend of mine. I feel very fortunate. You're going to win many of these."
St Andrews, Scotland (PRWEB) July 24, 2012
The British Open Golf Championship will be held over the Muirfield Links in East Lothian from the 18th to the 21st July 2013. Muirfield is situated in the small town of Gullane in the East Lothian's area around 40 minutes east of the capital city of Edinburgh.
The course is the home of the Honourable Company of Edinburgh Golfers, one of the oldest clubs in golf, which was formed in 1744 and moved to Muirfield from Edinburgh in 1891. The Open Championship has been held at Muirfield on 15 other occasions, the first being in 1892 and the last being in 2002. The return of the event to this venue will be a very popular decision as the course is famous throughout the world as being one of the toughest venues.
Golf Vacations UK are now preparing packages for the event at Muirfield, which is likely to produce record crowds due to its popular location. The packages will include accommodations, land transport and entry tickets to the Open Championship. Hospitality packages will also be available.
The last winner at this venue was this year's winner Ernie Els. Having spent several of the last few years fighting with his form, Els has returned to the top with a glorious win at Royal Lytham at the unfortunate expense of Adam Scott, who sadly collapsed over the closing 4 holes having held a 4 shot lead.Els was a very popular winner, being seen as an honorary Brit, having made his base and home at Wentworth in Surrey.
It was sad; however to see Scott throw away his lead but he will certainly be back, probably stronger, after the experience. Scott joined a list of players who threw away a major and that was not lost on Els, whose heart sank when he looked over at Scott during the presentation.
"Sorry," Els told him. "You're a great player, a great friend of mine. I feel very fortunate. You're going to win many of these."
Royal Lytham has to be congratulated on its hosting of the event this year; the course was in superb condition and certainly challenged some of the best golfers in the world with its layout, heavy rough and punishing bunkers.
The championship will return to England again in 2014, when it will be held over the Royal Liverpool Links (Hoylake) where it was last held in 2006 and won by Tiger Woods. It was the first time the Open had been held there since 1967 and proved a popular return to the rota.
Golf vacations UK are Golf Tour Operators that arrange golfing packages for clients in Scotland, Ireland, England and Wales and anyone wishing to enquire further re any of the articles mentioned in this release, should contact Eddie or Graeme on 888 209 4094 or +44 1228 598089 or visit the web site at http://www.golfvacationsuk.com