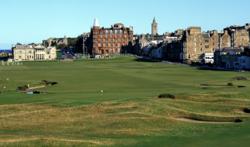 Euan Loudon, Chief Executive of St Andrews Links, said, "We are delighted to see the team from our reservations department in the spotlight and it is great that their efforts have been recognised by the industry."
St. Andrews, Fife, Scotland (PRWEB) November 13, 2012
The month of November has seen the allocation of tee times to selected tour operators for St Andrews Old Course during the 2013 season. Golf Vacations UK were allocated, in conjunction with the Experience Programme, a number of tee times during each month of the season which runs from April through October. Old Course times are not allocated in September as the Old Course is normally closed for much of the month due to the Autumn Meeting and the Dunhill Links Trophy.
The Reservations Team at St Andrews Links have won Golf Secretariat of the Year at the Golf Tourism Scotland Awards. The Reservations team manage and facilitate bookings on the seven courses at the St Andrews Links. In the month of October the team sorted through 2,500 advance applications for 2013 tee-times. The work of the Reservations Team at the Links plays a vital role in giving visitors to the Links a unique and memorable experience.
Euan Loudon, Chief Executive of St Andrews Links said; "We are delighted to see the team from our reservations department in the spotlight and it is great that their efforts have been recognised by the industry."
The Hamilton Grand, which sits behind the 18th green of the Old Course in St Andrews and is owned by Herb Kohler, remains on track for completion in 2013. The apartments, ranging from 2 to 4 bedrooms and a Penthouse Suite, were originally offered for sale with a 99 year lease. It has now become apparent that potential buyers would prefer to purchase freehold.
The present owners are now in the process of preparing a notice of variation of the original planning consent, which reflects the intended change. Mr. Kohler also owns the 5 star Old Course Hotel, Golf Resort and Spa which overlooks the famous 17th Road Hole of the Old Course.
2013 Open Championship packages are now available from Golf Vacations UK. The packages include accommodations and tickets. Tickets can be on a daily or weekly basis with reserved stand seating and hospitality also available. The 142nd Open Championship will take place at The Royal Company of Edinburgh Golfers, Muirfield from 18th through 22nd July 2013.
Golf Vacations UK are Golf Tour Operators based in the Scottish / English borders, and have been arranging golfing packages for clients in Scotland, Ireland, England and Wales for around 13 years. The company provide full land packages for International golfers to include prime guaranteed tee times at all major championship venues including the Old Course St Andrews. The company is run by father and son team, Eddie and Graeme Gilbertson, who pride themselves in offering a bespoke and personal service to their clients.
The company also has preferred tour operator status at some of the most exclusive hotels within the UK and Ireland. Anyone wishing to enquire further regarding their golf packages or any of the articles mentioned in this release, should contact Eddie or Graeme on 1 888 209 4094 or +44 1228 598089 or visit the web site at Golf Vacations UK