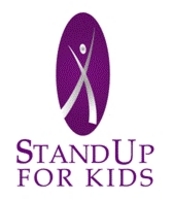 Orange County, CA (Vocus) October 28, 2010
November is National Homeless Youth Awareness Month, declared by the House and Senate in 2007, and serves as an outlet to increase public awareness of an ongoing issue occurring in every city across the United States. National statistics report the number of homeless kids at more than 1.5 million and every day, 13 kids die on the streets throughout the US. In Orange County alone there is an estimated 26,000 homeless youth.
Adolescents become homeless for several reasons. Many of these adolescents became homeless to escape the horrific situations they were living under. They may live in an unstable home where they are abused sexually or physically, or their family suffers financially. An adolescent experiences many difficult situations at home and their only solution is to escape and live in the streets where there is only more danger.
Non-profit organizations, such as STANDUP FOR KIDS, are working towards decreasing the number of homeless youth on the streets. Their many efforts include having volunteers go out into the streets, finding the homeless youth and help them find places to live and gain the skills necessary to survive. The organization also has a program called Don't Run Away, which provides teens with alternatives before they make the decision to run away. The Orange County chapter of STANDUP FOR KIDS has plans to build a drop-in and transitional living center and is currently working to raise money to fund this center through events, such as the upcoming STANDUP on the Vine wine tasting event in Irvine.
-more-
The federal government has also addressed the issue of homelessness. The U.S. Interagency Council on Homelessness released the nation's first plan to prevent and end homelessness through their Opening Doors: The Federal Strategic Plan to Prevent and End Homelessness. The 74 page document states the goals for ending homelessness in ten years. The U.S Interagency Council on Homelessness and the Interagency Working Group on Youth Programs will work together to provide resources to homeless youth. To find more information on federal resources for homeless youth go to FindYouthInfo.gov.
To become part of this ongoing effort and help make a difference in the lives of those who need it most, visit StandUpforKids.org for more information on how to volunteer or make a donation.
Founded in 1990, STANDUP FOR KIDS is a national non-profit organization dedicated to improving the lives of homeless and at-risk youth by providing them with access to health services, life skills training and basic necessities such as food, clothing and shelter.
Contact Info:
Tyler Austin
STANDUP FOR KIDS
(818) 303-4244
tylerbaustin(at)gmail(dot)com
http://www.standupforkids.org
###