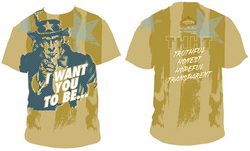 now the line is blurred between media and government. Objective news reporting no longer exists; instead it is opinions full of untruths and misperceptions
Suwanee, GA (PRWEB) July 29, 2010
"Voices of the American people are silenced by the rhetoric of corrupt career politicians and dishonest media," says Nickie Summers, creator of http://www.StandUpBeRead.com. Stand Up Be Read™ uses tee shirts and bumper stickers to elevate the voice of conservatives and those who look to protect the U.S. Constitution. "Our line of tee shirts offer the wearer an opportunity to spark conversation with their neighbors and friends to introduce them to the reason we must rally to restore the principles set forth by our country's Founding Fathers," explains Nickie.
We The People and Uncle Sam THHT (Truthful, Honesty, Hopeful, and Transparent) tee shirts by Stand Up Be Read™ send a message that Americans are energized in the political process to take back their country from the corruption of career politicians and dishonest media. "There was a time when the media was referred to as the fourth branch of government," reflects Nickie "however, now the line is blurred between media and government. Objective news reporting no longer exists; instead it is opinions full of untruths and misperceptions. Our message at Stand Up Be Read™ is clear and precise; our collection brings history forward and makes it relevant to today's national debates."
Stand Up Be Read™ tee shirts are available in styles and sizes for juniors, women and men. The Pursue Happiness and Endowed by my Creator onesies make a unique gift for new moms and the little Constitutionalist in your family. "Engage America's youth in the conversation," urges Nickie "they are never too young to learn the principles of freedom and they are the generation that will preserve freedom in this great country."
A recent Rasmussen report shows that 40% of voters view the Obama administration less ethical than past administrations. "Voter skepticism run rapid when they see backroom deals during the healthcare debate, cabinet and czar appointees without hearings, omitting Fannie and Freddie from the financial reform bill, and hypocritical backroom deals for ethical violators," Nickie continues, "Another example of Obama's failed promises of honesty and transparency is evident in the recent announcement of a provision in the financial reform bill that states the Securities and Exchange Commission no longer has to comply with requests for information from the public, including those filed under the Freedom of Information Act. This is an assault on freedom and further lends itself to the public perception of a government using soft tyranny prodding American's against their will."
For more information on this press release or to schedule an interview with Nickie Summers, creator of Stand Up Be Read™ and Nichola Originals, please email nickie(at)standupberead(dot)com or visit http://www.standupberead.com.
###