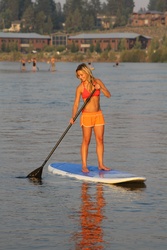 Stand up paddling is the most fun and efficient workout I've ever experienced
Bend, OR (Vocus) August 30, 2010
Stand Up Paddle Flatwater, an online retailer of quality stand up paddling (SUP) equipment, now has a fresh look, more product lines, a free shipping policy on orders over $100, and a new showroom in Bend, Oregon. What hasn't changed is the staff's dedication to friendly, knowledgeable customer service.
A new version of the Stand Up Paddle Flatwater website was launched on July 6th. The site is easy to navigate, provides thorough product descriptions, and features a gallery of SUP photos and video as well as a knowledge center. Most importantly, it offers a larger selection of stand up paddle boards, paddles, accessories, and apparel. No sales tax is charged on any item and free shipping is applied to all orders over $100 within the Continental United States.
A physical storefront has also been opened in Bend, Oregon. In addition to selling a wide variety of SUP equipment, the shop also offers high-quality rental stand up paddle boards for people of all sizes and abilities. "We live in one of the best places for flat-water stand up paddling in the world and really wanted to provide both locals and visitors easy access to everything they need to experience this great sport," says co-owner Chip Booth.
Other areas of growth include increased involvement in Bend's stand up paddling community and a number of philanthropic endeavors. In addition to weekly group paddles, Stand Up Paddle Flatwater now hosts monthly moonlight paddles, free demonstrations, and SUP fitness classes. A portion of the proceeds from every board and paddle sold is donated to the Deschutes River Conservancy and an Oregon chapter of the non-profit organization SUP Cleanup has been launched. "The river gives us so much. We feel a responsibility to help take care of it," says Stand Up Paddle Flatwater co-owner Lainey Booth.
Co-owner Chip Booth is an accomplished surfer and snowboarder who has been around boards his entire life and even makes SUP boards himself. He has 25 years of experience in the action sports industry. His wife Lainey is a Pilates instructor who has embraced SUP for its tremendous fitness benefits. "Stand up paddling is the most fun and efficient workout I've ever experienced," she says.
Despite Stand Up Paddle Flatwater's rapid growth, the owners are committed to maintaining the friendly, personalized customer service that has been key to the business's success. Lainey Booth says, "Customers can always feel free to give us a call if they need help selecting their gear. We love helping people discover and enjoy SUP."
Stand Up Paddle Flatwater is a family-owned online retailer that offers everything necessary to stand up paddle, including SUP boards, paddles, accessories, apparel, rentals, and information. A flagship store, Stand Up Paddle Bend, is located at 550 SW Industrial Way, #115, Bend, Oregon 97702.
###