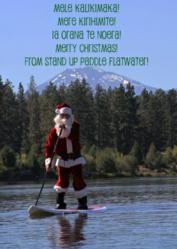 It's great to see how stoked people are on the Christmas cards. We've already had to order a second print run.
(Vocus/PRWEB) December 17, 2010
Always on a mission to provide stand up paddlers with more ways to have fun with the sport, Stand Up Paddle Flatwater is pumped to present a selection of SUP Christmas cards that feature Santa Claus stand up paddling on the beautiful Deschutes River with Bend's most famous landmark, Mt. Bachelor, in the background.
The top-quality cards hold appeal for stand up paddlers who want to share their love of the sport with friends and family this holiday season as well as for those who haven't been bitten by the SUP bug (yet) but want to acknowledge how much someone they know has.
Stand Up Paddle Flatwater has been selling the cards at their flagship store in Bend, Oregon since the beginning of December, and reports a very positive response. "It's great to see how stoked people are on the Christmas cards," says Stand Up Paddle Flatwater co-owner Chip Booth. "We've already had to order a second print run."
If you're interested in treating your special paddler to more than a card, be sure to check out the Stand Up Paddle Flatwater Gift Guide. A wide range of SUP paraphernalia – boards, paddles, accessories, apparel, DVDs, magazines, and other SUPer-cool gift items, are organized into price categories and interest groups for easy selection. From stocking stuffers to show stoppers, there's something to suit every budget.
In case you're wondering, Santa's board of choice is a 14 foot Joe Bark Expedition by Surftech (red of course) - also available at Stand Up Paddle Flatwater.
Special offer: Enter code MERRY22 at checkout to take $5 off any order of $75 or more. Orders over $30 ship free through December.
Stand Up Paddle Flatwater is a full-service, family-owned online SUP shop. Whether you want to surf big waves, win races, get in shape, shoot rapids, just cruise, or do a little of everything, you can trust us to help you pick equipment you'll be stoked on. Web: http://www.StandUpPaddleFlatwater.com. Telephone: 541.639.2655. Email: Info(at)StandUpPaddleFlatwater(dot)com. Flagship store: Stand Up Paddle Bend, 550 SW Industrial Way, #115, Bend, Oregon 97702.
# # #