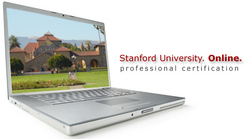 I strongly believe that Italian managers and entrepreneurs may gain incredible benefits in attending Stanford's programs.
Stanford, CA (PRWEB) March 26, 2010
The Stanford Center for Professional Development the education outreach unit of the Stanford School of Engineering, announces a new relationship with IFAF to offer professional and executive education in Italy. The collaboration will extend two professional certificate programs to Italian managers and executives: Stanford Strategic Decision and Risk Management and Stanford Advanced Project Management.
"The Stanford Center for Professional Development has been delivering education to industry for over 40 years," states Dr. Andy DiPaolo, Senior Associate Dean in Stanford's School of Engineering, "and we are enthusiastic in collaborating with IFAF to extend our professional offerings in Italy. Both programs combine faculty expertise and industry insights with immediate application for organizations looking to emerge from this downturn stronger than ever."
IFAF has been delivering education in Italy for over 25 years. Based in Milan, IFAF will offer the Stanford certificate programs in two ways: a travel study program, combining a Silicon Valley tour with education at Stanford, and online with support for local students who register through IFAF. "I strongly believe that Italian managers and entrepreneurs may gain incredible benefits in attending Stanford's programs," says IFAF Managing Partner Fabio Lampugnani. "They live and work in a fast changing environment and at Stanford they have the chance to improve their ability to make effective critical decisions and manage complex projects."
The travel study program with an experience on Stanford's campus designed to expand the experience and vision of Italian companies, became available for enrollment in March. "Most of the Italian firms are small and medium size enterprises: they still need to learn how to think globally, how to manage complexity, and how to be innovative, without losing their strength and flexibility," states Lampugnani. He adds, "We are proud to offer to our clients the chance to attend Stanford's programs together with the possibility to participate in events, increase their networks, visit blue chip companies, and meet managers and entrepreneurs in Silicon Valley."
About the Stanford Center for Professional Development
The Stanford Center for Professional Development connects working professionals worldwide to the research and teaching of Stanford University faculty in the School of Engineering and related academic departments. Qualified individuals may study for master of science degrees on a part-time basis, pursue graduate and professional certificates, take individual graduate and professional courses, participate in workshops, view free online seminars and more. Courses are delivered online, on the Stanford campus in the heart of the Silicon Valley, and at the work site. scpd.stanford.edu
###