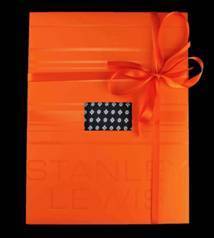 Order a Gift for You or a Loved One Today and Receive a 'FREE Linen Pochette
New York, NY (PRWEB) November 18, 2010
"…'Tis the season to be jolly…" Hand-in-hand with the Holiday Season comes party time and the perfect excuse to recharge that tired old wardrobe. What better way to add WOW! to any outfit than by injecting color and pizzazz through vibrant and expressive accessories. Enter Stanley Lewis – the master of men's fashion accessories.
Now through December 7, 2010, Stanley Lewis is offering a 'Free Linen Pochette with EVERY Order' so it is a better time than ever to shop the Stanley Lewis Collection of men's cufflinks, luxury silk ties, men's designer socks, stunning silk and linen pochettes, and an amazing luxury scarf collection.
Stanley Lewis offers one of the largest selections of men's socks available. Each set comes in a handmade box containing two pairs of Italian-made cotton blend mens designer socks, each designed using the same base color, but with a variation in design.
The Stanley Lewis collection of men's ties are handmade to exacting standards by Italy's finest craftsmen. This season marks the introduction of the prestigious 5 Fold Tie. Often referred to as 7 Fold, the weight and drape of this luxury silk tie comes from the careful and precise layering of silk. Stanley Lewis also offers a fine collection of Woolen & Silk Ties, Ascots, and Self-Tie Bow Ties. Each is weighed and measured for ease of selection and is presented in the much acclaimed Stanley Lewis handmade box.
Stanley Lewis believes presentation is paramount and the vast collection of handmade cufflinks sit proudly in handmade leather and suede cufflink boxes. Exclusively designed and made in Italy, these unique cufflink designs have been created using time honored techniques such as cabochon and intaglio. Stanley Lewis handmade cufflinks are distinctive in design, set in 925 silver and are rhodium plated. Why not pair these handmade cufflinks with an exquisite piece from the Stanley Lewis men's scarf collection?
Loving what you're seeing but not sure how to put it all together? If you're not born with an innate sense of sartorial flair and you can't afford a stylist to the stars, ask your friend Stanley Lewis!
The Stanley Lewis collection of luxury accessories are designed to work together to create a polished look, and the brand's sleek e-commerce site offers a "Harmonize With" feature that guides the shopper to items that complement the one he or she is currently viewing. It makes putting it all together effortless, and what's more chic than that?
All Stanley Lewis men's fashion accessories are made in Italy and come perfectly presented in seductive handmade packaging. The 'FREE Linen Pochette' promotion is no exception being presented in a stunning handmade orange envelope tied with satin ribbon. So if it is a gift for a loved one or you feel it's time to simply spoil yourself, be assured this special gift will impress even the most fastidious this Holiday season! Visit stanleygentlemen.com for further details and to shop online now.
About Stanley Lewis: Stanley Lewis was founded in 2008 by Anne Harding and Stanley Crinis in an effort to restore balance to men, both in life and wardrobe. The collection is comprised of a selection of fine Italian-made silk ties, bow ties, designer socks , pochettes, ascots, luxury scarves and handmade cufflinks that coordinate to bring polish and sartorial flair to every gentleman's ensemble. The entire collection is available online at Stanleygentlemen.com and at fine retailers in the United Arab Emirates and Russia.
# # #