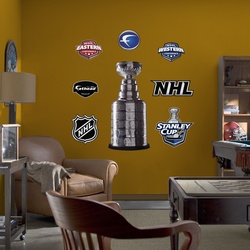 The Stanley Cup is widely regarded as the most recognizable trophy in all of sports
LIVONIA, Mich. (PRWEB) May 19, 2008
"Traditionally, it is a privilege for each NHL player who wins the Stanley Cup Championship to spend an adventurous day with the cup," says Brock Weatherup, Fathead CEO. "Now, fans have the opportunity to display this cherished symbol for all to see every single day. The Stanley CupTM Fathead pays homage to absolute greatness on the ice and the passion that drives players and fans alike to seek the ultimate GOAL!"
"The Stanley Cup is widely regarded as the most recognizable trophy in all of sports," said Dave McCarthy, NHL Senior Director Consumer Products Marketing. "Making a Stanley Cup Fathead available not only pays tribute to the crown jewel of the NHL season, but allows fans to engage in the magic that is the Stanley Cup Playoffs."
Real.Big. Fathead® is the high def, life-size vinyl wall-graphic with a special adhesive backing that allows it to be moved from wall to wall, making them perfect for decorating a bedroom, office or entertainment area. NHL Real.Big. Fathead®images can be purchased by visiting the company's website, http://www.fathead.com where over 450+ of the best sports and entertainment stars can be found and at select retailers across the country, or by calling (877)-FATHEAD.
About Fathead LLC: The Livonia, Mich-based company, whose products include Real.Big. Fathead®, maintains license agreements with the NFL and PLAYERS INC., Disney Consumer Products, Inc., Collegiate Licensing Company, Licensing Resource Group, Inc., MLB and MLBPA, NASCAR, NBA Entertainment, MLS, Action Sports, NHL and NHLPA, Dallas Cowboys Cheerleaders, Lucasfilm, Ltd., Twentieth Century Fox Film Corporation, Gracie Films, Time, Inc., Marvel Characters, Inc., Columbia Pictures Industries, Inc., and WMG.
NHL is a registered trademark and the word mark Stanley Cup is a trademark of the National Hockey League. All Rights Reserved.
MULTIMEDIA GALLERY http://www.businesswire.com/cgi-bin/mmg.cgi?eid=5684774