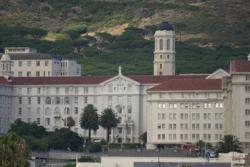 ...Donations such as these make a significant difference in the treatment of kidney diseases in the Western Cape.
(PRWEB) July 14, 2011
South African captain of industry, Stanley Tollman and his nephew, Gavin Tollman, recently honoured the memory of Dr Arnold Tollman through a donation of R 525,000 towards Groote Schuur Hospital's Renal Unit.
Cape Province born Arnold Tollman, a sufferer of kidney disease for an extensive period of his life and requiring a kidney transplant, was brother to Stanley Tollman, and father to Gavin Tollman. Their donation, made in his memory, will provide South African healthcare with essential medical services equipment for the treatment of patients with kidney failure.
For patients having to live with kidney disease, this donation has brought not just the promise of improved treatment, but also hope. The donation, made on July 1st, 2011 at South Africa's Groote Schuur Hospital, will be applied towards the acquisition of critical equipment that will significantly lessen the burden of the illness for the patient and their families. Collectively, the equipment to be purchased, which includes multifiltrate machine, Aqua reverse osmosis, BCM body composition monitor, Edodosafe PTS reader and cartridge renatron dialyser reprocessing station, will improve care for patients with acute and chronic renal failure, reduce costs and make treatment safer.
Importantly, this donation will enable the provision of medical services that will be a first for South Africa, putting the academic units utilizing the equipment at the forefront of development of new treatments.
Western Cape Health Minister, Theuns Botha, expressed his gratitude to the Tollman family for their invaluable donation: "The cost of dialysis treatment per patient per year is about R200 000, which means dialysis will cost the country in the region of R5 billion per year in addition to the costs of pre-existing patients. It is not possible for government to offer treatment to all patients, therefore donations such as these make a significant difference in the treatment of kidney diseases in the Western Cape."
Speaking of the donation made in honour of his father, Gavin Tollman stated:
"This donation is a deeply personal one to me, my uncle Mr Stanley Tollman, and our entire family. We are all acutely, from our own personal experience in supporting my father through his many battles with kidney disease, how critical this equipment is to the provision of healthcare, and hope, to patients and their families. My father is best honoured through a legacy of continued improvement to the lives of South Africans through healthcare."
###