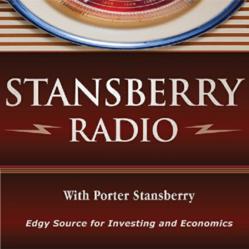 Prime Minister, Abe has 'lit the fuse' on the Japanese bond market".
Baltimore, MD (PRWEB) February 21, 2013
Stansberry Radio hosted Tres Knippa – professional trader on the Chicago Mercantile Exchange – last week to discuss the details around what Knippa sees as an opportunity in shorting Japan's debt.
In the interview, Knippa stated he believes Japanese Prime Minister Shinzo Abe has "lit the fuse" on a currency crisis in that Asian nation and that the inflationary policies of Abe will cause its sovereign debt to collapse.
"Japan has got problems ahead of it," said Knippa. "Prime Minister Shinzo Abe has set the inflation target for the stated purpose of devaluing the currency and has 'lit the fuse' on the Japanese bond market". Knippa said this creates an opportunity for investors to sell short Japanese debt -- which is essentially an investment that would profit if the price of Japanese bonds fall. Listen to the entire interview here.
Stansberry & Associates analyst, Steve Sjuggerud has written about this same phenomenon and its effect on equity values – calling Japan's inflation-inducing policies "Abe's Revenge." See Steve's full article here.
Dr. David Eifrig Jr., who was filling in for regular host Porter Stansberry, is the editor of Retirement Millionaire, a monthly advisory that shows readers how to live a millionaire lifestyle on less money than you'd imagine possible. He is also the editor of Retirement Trader, a trading advisory that details safe ways to earn double or triple gains, with less risk. Before joining Stansberry & Associates in 2008, Dr. Eifrig worked in arbitrage and trading groups with major Wall Street investment banks, including Goldman Sachs, Chase Manhattan, and Yamaichi in Japan. In 1995, Dr. Eifrig retired from Wall Street, went to UNC-Chapel Hill medical school, and became an ophthalmologist.
The Stansberry Radio Network is becoming a required stop for financial experts, economists, politicians and the media. The show has been host to a wide variety of prominent names, including Lauren Lyster, Jeff Macke and Alex Jones. Other guests have included Mike "Mish" Shedlock, MSNBC host Chris Hayes, former U.S. Senator Byron Dorgan, publisher Steve Forbes, and renowned investors Jim Rogers and Marc Faber.
Stansberry Radio Network segments can be accessed at http://www.stansberryradio.com. Stansberry Radio with Porter Stansberry is a top three investing podcast on iTunes, having more than 80,000 downloads and listens per month. New episodes are released every Thursday afternoon.
Tres Knippa is a professional trader and broker on the floor of the Chicago Mercantile Exchange. Mr. Knippa has been trading the futures markets for over 17 years and is a member of the Chicago Mercantile Exchange. Mr. Knippa focuses his efforts on energy, stock index, and agricultural futures but holds positions in markets all over the world. In April 2001 Tres started trading proprietarily for himself and this became his primary source of income. Tres believes Japan is the next sovereign debt crisis. Tres is a regular contributor on most of the major financial news networks including CNBC, Fox Business, and Bloomberg. To learn more about Tres and why he believes shorting Japan's debt could be financially lucrative visit his website http://www.shortjapandebt.com.