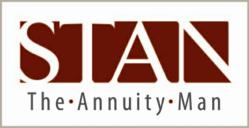 (PRWEB) October 04, 2012
Annuity expert, Stan The Annuity Man, is sharing valuable information when it comes to managing financial plans. Many people do not protect themselves against economic inflation, and according to a new report by the United Nations, seniors are currently the fastest growing segment of global populations. This means many risk outliving their retirement income. For investors, inflation-proof annuities provide a secure safety net when it comes to eliminating inflation and longevity risk.
Inflation-proof annuities, also known as inflation-indexed annuities, offer people the benefits of principal protection within a traditional fixed annuity with a potential growth opportunity from rising inflation rates. They provide the contractual guarantees needed for annual increases in income with no minimum cost amount required.
"With Single Premium Immediate Annuities, you can contractually choose the percentage that you want your income stream to increase for life," says annuity expert, Stan The Annuity Man. "That contractual percentage increase can be as low as 2% annually or up to 10% annually. These increases are called 'Cost of Living Adjustments' and are a rider, or attached benefit that can be added to your policy.
With inflation-adjusted annuities, people are guaranteed that their income lasts for the rest of their life and is adjusted for inflation, no matter how long they live or whatever happens in the stock and bond markets. The contractual increases will be in place regardless of how long investors live, and their listed beneficiaries will receive 100% of the remaining account when the original investor passes away.
According to Stan The Annuity Man, these annuity income strategies contractually guarantee inflation increases that can be used for both 'Income Now' and 'Income Later' strategies. They grow and lock in your income annually with CPI increases or gains in the growth of a specific index like the S&P 500.
For more information about inflation-proof annuity strategies view Stan's interview video. Or visit his website at http://www.stantheannuityman.com/
About Stan The Annuity Man
Stan The Annuity Man is a nationally recognized expert on annuities known for his transparency, honesty and endless research. He has spoken at every major financial trade show in the United States, and is rigorously independent, representing all major carriers that meet his uncompromisingly high standards. With a financial background that spans some of the major wirehouse organizations such as Dean Witter, Morgan Stanley, Paine Webber and UBS, Stan brings to his clients an informed clarity and "insider" wisdom that makes him extra careful and cognizant of risks and how to avoid them. Stan The Annuity Man's mission is to give each client his undivided personal attention and to become a trusted member of their "Financial Team." With clients nationwide, Stan is known for his fly-to-your-home, coast-to-coast service no other annuity company provides.