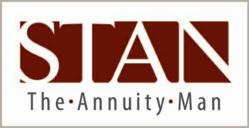 (PRWEB) October 23, 2012
For those who own an annuity or are thinking about buying one, annuity expert, Stan The Annuity Man is educating the public on how annuities work with his 3 step process for finding the right annuity for them. When it comes to planning for income, most people who own annuities don't know what they own or why they own it, according to Stan The Annuity Man. Each year as the trillions of dollars in annuities held in the U.S. grow by $200 billion annually, Stan's honest and clear approach gives people the power to decide the best annuity strategies that work for their particular situation.
In Stan The Annuity Man's 3 step approach, investors should always:
1. List their goals
2. Ask their agent or advisor what a particular annuity does
3. Consult a second opinion or recommendation from an annuity specialist
"To understand whether a person is getting the right kind of annuity that benefits them most, one must analyze their specific goals and needs," says Stan The Annuity Man.
Annuities are contractual guarantees that solve for four problems – Principal Protection, Income for Life, Legacy and Long Term Care. When considering an annuity for a portfolio, questions such as, 'What specific goal or problem am I looking to solve?' and, 'Will the contractual guarantees within that policy solve that specific goal or problem?' may help the overall decision.
"Once goals have been addressed, one should ask their agent or advisor what a particular annuity will do for them," says Stan The Annuity Man.
Annuities are developed for two types of income – Immediate (income now) and Target Date (income later). The type of annuity product one should buy is largely dependent upon one's age, meaning older people may need income now (Immediate) whereas younger people may need income later (Target Date). All income and lifetime income is based on life expectancy so the older a person is, the less their life expectancy is which leads to higher payout.
Lastly, to ensure one's money is safe and is positioned correctly within a portfolio, talking to an independent annuity specialist will double-check the annuity plan and make sure it is working in their best interest.
"When dealing with annuities, it's always advisable to get a second opinion or recommendation from a credible annuity specialist," says Stan The Annuity Man. "Having an experienced and non-biased expert will ensure no hidden motives, intentions or views of the issuer will get in the way of solving financial goals."
To contact Stan The Annuity Man about your financial plan visit http://www.stantheannuityman.com/ or email him at stan(at)stantheannuityman(dot)com. For more information on finding the right annuity, click here to view his recent video.
About Stan The Annuity Man
Stan The Annuity Man is a nationally recognized expert on annuities known for his transparency, honesty and endless research. He has spoken at every major financial trade show in the United States, and is rigorously independent, representing all major carriers that meet his uncompromisingly high standards. With a financial background that spans some of the major wirehouse organizations such as Dean Witter, Morgan Stanley, Paine Webber and UBS, Stan brings to his clients an informed clarity and "insider" wisdom that makes him extra careful and cognizant of risks and how to avoid them. Stan The Annuity Man's mission is to give each client his undivided personal attention and to become a trusted member of their "Financial Team." With clients nationwide, Stan is known for his fly-to-your-home, coast-to-coast service no other annuity company provides.