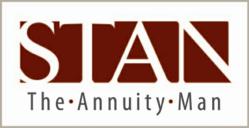 (PRWEB) November 13, 2012
Educating the public on how annuities work is annuity expert, Stan The Annuity Man's focus with his newest four step process to finding the right annuity program. Many variables go into selecting the right annuity program when it comes to contractually solving specific goals. Designed to help investors asses their need for a possible 'transfer of risk' strategy Stan's four step plan solves for principal protection, income for life, legacy or long term/confinement care.
In Stan The Annuity Man's 4 step process of finding the right annuity, investors should:
1) Decide if they need income now vs. income later
2) Choose a professional, such as Stan The Annuity Man, who represents multiple companies
3) Decide what guarantee fits their needs
4) Achieve their end goal with the money they put in
When planning to create a portfolio that will give the investor that lifetime guarantee, they must decide if they need income now or income later. There are two possible questions an investor can ask themselves, according to Stan The Annuity Man: 'What will an initial lump sum of money provide?' or 'What do I need to do for a certain amount of dollars per month for the rest of my life.'
Once an investor decides what kind of guaranteed income they need, it is advisable to talk to an independent annuity specialist to ensure money is safe and positioned correctly within a portfolio, says Stan The Annuity Man. As a National Consumer Advocate for Annuities, Stan The Annuity Man represents over 100 companies developing programs that put all of the available annuities together to filter out the top contractual guarantee for that person and their specific situation.
Next, investors should decide what guarantee fits their needs. Whether it's the end number an investor is interested in or the interest, different products could do both. Lifetime income guarantees the contractual number that will pay the investor for the rest of their life where as a fixed annuity pays the fixed interest rate.
To see an annuity succeed, investors must first put in a lump sum or 'X' amount per year into the annuity to see what the reflection of the income stream will be. Investors must also remember income with annuities is based on their life expectancy. Income stream for 'income now' is based on the investor's age when they decide to put it in action, whereas the income stream for 'income later' is based on when the investor turns the income stream on. And contrary to popular belief, insurance companies do not keep money when the investor dies, says Stan The Annuity Man. Stan structures the annuity program so that 100% of the investor's money goes to them or their listed beneficiary.
To contact Stan The Annuity Man about your financial plan visit http://www.stantheannuityman.com/ or email him at stan(at)stantheannuityman(dot)com. For more information on finding the right annuity, click here to view Stan's recent video.
About Stan The Annuity Man
Stan The Annuity Man is a nationally recognized expert on annuities known for his transparency, honesty and endless research. He has spoken at every major financial trade show in the United States, and is rigorously independent, representing all major carriers that meet his uncompromisingly high standards. With a financial background that spans some of the major wirehouse organizations such as Dean Witter, Morgan Stanley, Paine Webber and UBS, Stan brings to his clients an informed clarity and "insider" wisdom that makes him extra careful and cognizant of risks and how to avoid them. Stan The Annuity Man's mission is to give each client his undivided personal attention and to become a trusted member of their "Financial Team." With clients nationwide, Stan is known for his fly-to-your-home, coast-to-coast service no other annuity company provides.