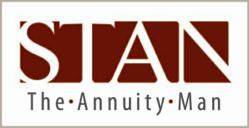 (PRWEB) January 08, 2013
Annuity expert, Stan The Annuity Man, is proud to announce his selection to MarketWatch's RetireMentors program. Stan joins the select group of financial professionals who use their personal expertise to help investors toward a more comfortable and secure retirement. Through the RetireMentors program, Stan will be contributing his years of financial expertise to educate the public regarding the truth about annuities.
The RetireMentors are a select group financial advisors, 401(k) consultants and managers, researchers and analysts, and other industry veterans who draw on their own expertise and share advice about all things retirement-related. These commentators offer insight, opinion and conversation from a different vantage point than staff journalists and other paid freelance writers. Using their 'down-in-the-trenches' experience to steer investors toward a more comfortable and secure retirement. Topics that The RetireMentors write about includes investing, financial planning, 401(k)s, IRAs, Annuities, Estate Planning, Tax Planning and Insurance.
"Being involved in the RetireMentors program with MarketWatch provides me the opportunity to educate the public on how annuities work and how they can possibly add value to a person's portfolio," says Stan The Annuity Man.
With over 20 years working in the financial services industry, Stan The Annuity Man has worked for Dean Witter, Morgan Stanley, Pain Webber and UBS. In 2005, Stan started focusing solely on annuities on a national basis, with a goal to educate the public on how annuities work. Today, Stan is considered nationally as "The Annuity Consumer Advocate" writing and speaking for many industry trade sources.
"I'm honored to be a contributor to MarketWatch, and look forward to continuing my educational quest as the national annuity consumer advocate," says Stan.
The Stan The Annuity Man approach to finding the right annuity is better and clearer than investors have experienced elsewhere. Representing more than 100 companies with an A rating or better, Stan puts the right annuity plan together based on the investor's situation. Looking at only the contractual guarantees, Stan solves it worst case scenario so the client knows that number will be there.
"I've really enjoyed the feedback from the articles and helping the people who have contacted me with questions about annuities," says Stan. "I look forward to being an annuity resource for MarketWatch readers."
To learn more information about Stan The Annuity Man's unique approach to financial planning and annuities, please visit http://www.stantheannuityman.com/. To see full roster of The RetireMentors and their latest columns, go here: http://www.marketwatch.com/retirement/mentors.
About MarketWatch
MarketWatch, published by Dow Jones & Co., tracks the pulse of markets for engaged investors with more than 16 million visitors per month. The site is a leading innovator in business news, personal finance information, real-time commentary and investment tools and data, with dedicated journalists generating hundreds of headlines, stories, videos and market briefs a day from 10 bureaus in the U.S., Europe and Asia. In addition, MarketWatch offers subscription products for investors, including the Hulbert Financial Digest suite of products, Retirement Weekly and ETF Trader. The MarketWatch Radio Network provides radio stations with market-news updates every 30 minutes. MarketWatch is part of The Wall Street Digital Network, which includes WSJ.com, Barrons.com, AllThingsD.com, BigCharts.com and VirtualStockExchange.com.
About Stan The Annuity Man
Stan The Annuity Man is a nationally recognized expert on annuities known for his transparency, honesty and endless research. He has spoken at every major financial trade show in the United States, and is rigorously independent, representing all major carriers that meet his uncompromisingly high standards. With a financial background that spans some of the major wirehouse organizations such as Dean Witter, Morgan Stanley, Paine Webber and UBS, Stan brings to his clients an informed clarity and "insider" wisdom that makes him extra careful and cognizant of risks and how to avoid them. Stan The Annuity Man's mission is to give each client his undivided personal attention and to become a trusted member of their "Financial Team." With clients nationwide, Stan is known for his fly-to-your-home, coast-to-coast service no other annuity company provides.