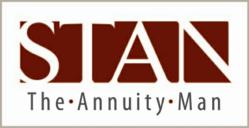 (PRWEB) February 16, 2013
Annuity expert, Stan The Annuity Man, will be attending Hillsdale College's annual winter meeting for their Board of Trustees and President's Club. The meeting will be held at the Hyatt Regency Coconut Point Resort & Spa in Bonita Springs Florida February 18-19th. As an esteemed guest, Stan has been helping the college raise money using a unique annuity strategy created and designed by Stan himself.
"I am proud to help such a wonderful institution like Hillsdale College," says Stan The Annuity Man. "It is the only college in the country that does not accept a penny from the government, and their educational focus is unmatched."
Stan The Annuity Man has been helping Hillsdale College raise money using annuities since 2011. As the only college or university in the country that does not accept financial government assistance, Stan developed the Charitable Endowment Deferred Annuity strategy that gives donors the opportunity to give to the charity of their choice.
"It is fitting that Hillsdale College motivated me to create a strategy that is now helping charitable and non-profit organizations across the country," says Stan.
Designed by Stan The Annuity Man and his non-profit organization, Annuities For A Cause, the CEDA is a fixed index annuity that provides charitable donors a new way of giving to their favorite college, non-profit or charity of their choice. As the creator and designer of this new type of charitable annuity strategy, Stan has made it possible for people to essentially 'have their cake and eat it too.' According to Stan, people want to give to their organization of choice, but they want to retain control of the money. The CEDA allows donors to give money and still retain 100% control of the asset, and is a perfect complement to the charitable annuity strategies non-profits are currently using.
As a leading consumer advocate for annuities, Stan The Annuity Man is a highly regarded expert who has dedicated his life to educating the public about annuity strategies and how they could possibly work for a specific situation. Stan has over 20 years in the financial services industry, Stan shares his expertise to help investors toward a more comfortable and secure retirement in his in his RetireMentors column.
The CEDA is distributed exclusively by Annuities For A Cause, a non-profit organization run and overseen by Stan the Annuity Man. For more information or to download a complimentary copy of the Annuities For A Cause please visit http://www.stantheannuityman.com/resources/annuities-for-a-cause.
About Stan The Annuity Man
Stan The Annuity Man is a nationally recognized expert on annuities known for his transparency, honesty and endless research. He has spoken at every major financial trade show in the United States, and is rigorously independent, representing all major carriers that meet his uncompromisingly high standards. With a financial background that spans some of the major wirehouse organizations such as Dean Witter, Morgan Stanley, Paine Webber and UBS, Stan brings to his clients an informed clarity and "insider" wisdom that makes him extra careful and cognizant of risks and how to avoid them. Stan The Annuity Man's mission is to give each client his undivided personal attention and to become a trusted member of their "Financial Team." With clients nationwide, Stan is known for his fly-to-your-home, coast-to-coast service no other annuity company provides.